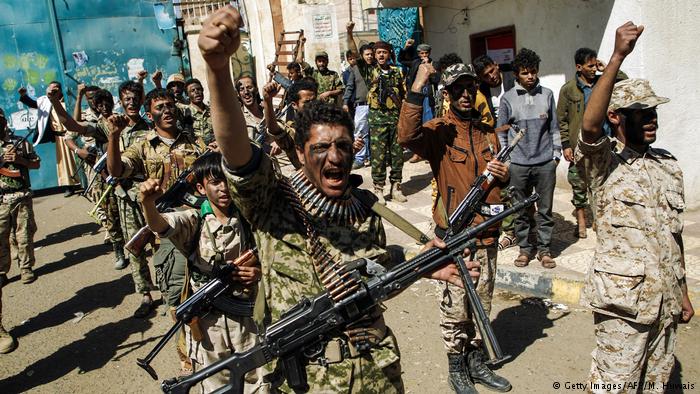 Russia has vetoed a UN Security Council resolution that would have put pressure on Iran for failing to prevent its missiles from being used in the Yemeni conflict. The Security Council subsequently voted unanimously in favor of a resolution drafted by Russia, which omitted Iran and the findings of UN report that said Iranian-made missiles had been found in Yemen.
Both resolutions were meant to renew the sanctions imposed on Yemen, which were set to expire on Monday. The original resolution that named Iran was drafted by the UK, with the consultation of the United States and France, and was based on the findings of a January report produced by a UN panel of experts.
The panel said Iran violated the 2015 arms embargo by failing "to take the necessary measures" to prevent the direct or indirect supply of missiles and drones to Shiite Houthi rebels in Yemen. The experts examined missile remnants fired into Saudi Arabia by the Houthis last year and said many "are consistent with those of the Iranian designed and manufactured Qiam-1 missile."
While the report stated that Tehran had violated the embargo by failing to block arms shipments, the experts were unable to identify the supplier.
Russia has questioned the expert's report, with Russia's UN Ambassador Vassily Nebenzia referring to its findings as "uncorroborated conclusions and evidence which requires verification." Nebenzia added that Russia could not vote for a resolution that included such findings, as it would be "dangerous" and "escalate regional tensions."
Iran 'categorically' rejects allegations
In response to the vote, US Ambassador Nikki Haley accused Russia of shielding Iran and warned the United States would consider other ways to take action against Tehran.
"Today, Russia protected the terrorist-sponsoring regime in Iran," said Haley. "If Russia is going to use its veto to block action against Iran's dangerous and destabilizing conduct, then the United States and our partners will need to take actions against Iran that the Russians cannot block."
Iran's mission to the United Nations accused the US and Britain of pushing an "unwarranted draft resolution" to advance an anti-Iran political agenda and "categorically" rejected allegations of arms transfers to Yemen. Iran also referred to the UK draft resolution as an attempt to "distract" the world's attention from the "catastrophic humanitarian situation" in Yemen.
Yemen has been consumed by an armed struggle between the government and the rebel Houthis since 2015. The war has been described by the United Nations as the world's worst humanitarian crisis.