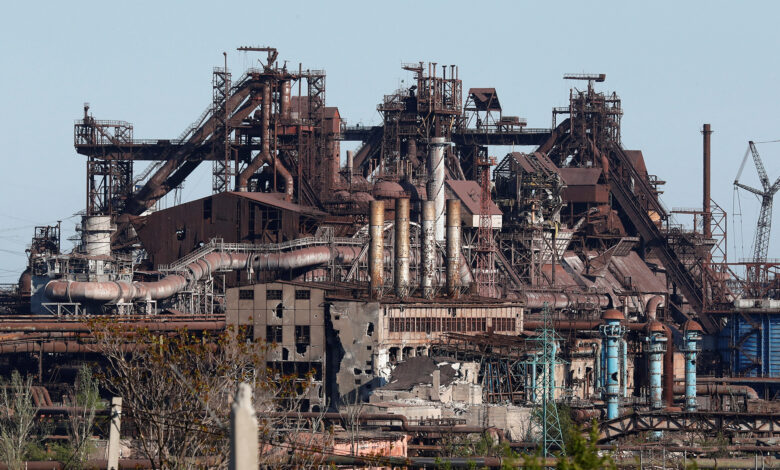 Ukraine's General Staff said Russian forces are continuing to "launch artillery and air strikes on Mariupol" while blocking Ukrainian units near the Azovstal plant.
Azovstal has been under constant shelling from Russian forces for about two months and while a Ukrainian officer inside the facility said that all trapped civilians have likely been evacuated, Ukrainian fighters continue to hold out.
"In order to establish full control over the city and suppress the resistance of Ukrainian defenders, it uses strategic aviation. Given the evacuation of the local residents, increase of the firing should be expected in the near future," the General Staff said.
Zaporizhzhia: In the south, the regional administration in Zaporizhzhia said there are signs the Russians are trying to reinforce their units by bringing in more equipment and troops. It said a new Russian contingent had arrived in Mykhailivka, just south of current frontlines.
Enerhodar: In the nearby city of Enerhodar, occupied by Russian forces since early March, the regional administration reported on Friday that, "The city is almost out of medicine, and humanitarian aid is not always available." Enerhodar residents, it said, are "already afraid to go to protests and organize rallies" because of constant patrols and intimidation by Russian soldiers.
In his daily address on Thursday, President Volodymyr Zelensky said the Russian offensive was hiding behind missile, air and artillery strikes.
"Russia's strategic defeat is already obvious to everyone in the world and even to those who still continue to communicate with them. Russia simply lacks courage to admit it so far. They are cowards," Zelensky said.
"Therefore, our task is to fight until we achieve our goals in this war. "