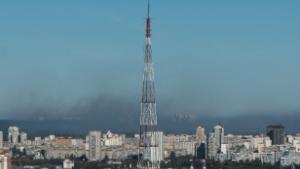 A Russian official on Friday morning said the country's air defenses had shot down rockets in the Belgorod region, which borders Ukraine to the north, near the Ukrainian city of Kharkiv.
"Our air defenses shot down rockets near Novoskolsk district this morning. The debris fell in the vicinity of the railroad. Power lines were damaged. Railway traffic has been temporarily suspended," Belgorod Gov. Vyacheslav Gladkov said in a statement on Telegram. "Emergency crews are on their way. I'm sure they'll rectify the situation very quickly and traffic will be restored. I'll keep you posted. Most importantly, there are no casualties."
Some context: Moscow and Kyiv have blamed each other for damage inflicted on a residential building in Belgorod on Thursday. Russian officials blamed Ukraine, although Ukrainian presidential adviser Mykhailo Podolyak said Russia launched a missile toward Kharkiv and missed its target.