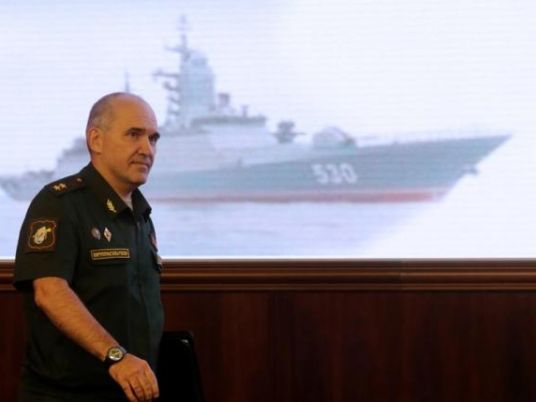 Russia said on Wednesday there would be daily three-hour ceasefires in Syria's Aleppo starting Thursday to allow humanitarian convoys to enter the city safely, a proposal which the United Nations said it would consider.
Aleppo is split into rebel and government controlled areas. The rebel-held east, where about 250,000 people are thought to be living, came under siege in early July after government forces cut the Castello Road, the main supply route into the district.
Last Friday rebels staged a major assault southwest of Aleppo to break this siege. Rebel fighters did manage to pierce the ring of government-controlled territory, but a safe corridor for civilians and aid has not yet been established as fierce fighting continues.
Speaking at a televised briefing, Lieutenant-General Sergei Rudskoi, a senior Russian Defence Ministry official, said the pause in fighting would run from 10 a.m. to 1 p.m. local time.
Rudskoi said the question of joint control over delivery of humanitarian aid via Castello Road was being discussed with the United Nations and the United States.
He said "all military action, air and artillery strikes" would be halted for the three-hour periods.
"This is to ensure that all interested organizations have the opportunity to deliver their humanitarian assistance to the residents of Aleppo," Rudskoi said.
He added that Russia, an ally of Syrian President Bashar al-Assad against rebels in Syria's five-year-old civil war, would work with Damascus to ensure safe delivery of the aid.
A spokesman for a major rebel group fighting inside Aleppo told Reuters it was skeptical of the Russian plan.
"Is this publicity that Russia is a neutral party? What is three hours? In those three hours they will just be bombing (rebel-held) Idlib!", said Abd al-Salaam Abd al-Razzaq, military spokesman for the Nour al Din al-Zinki insurgent group.
Air strikes killed at least 19 people and wounded dozens in rebel-held Idlib province, southwest of Aleppo, on Wednesday. One Idlib town, Saraqeb, has received daily heavy air strikes since a Russian helicopter was shot down nearby 10 days ago.
Quarter of a million people trapped
At least four people died and many suffered breathing difficulties when a gas, believed to be chlorine, was dropped alongside barrel bombs on a neighborhood of the Syrian city of Aleppo on Wednesday, a hospital and a civil defense group told Reuters.
Food supplies, infrastructure and medical services are immensely strained for the roughly 250,000 people believed to be trapped inside eastern Aleppo.
United Nations aid chief Stephen O'Brien said on Wednesday he was willing to consider the Russian plan, but that a 48-hour pause in fighting was needed to meet all the humanitarian needs in the Syrian city, Syria's most populous before the war.
"At all times I will look at any kind of suggestion which enables humanitarian aid to be delivered," he told reporters.
"When we're offered three hours then you have to ask what could be achieved in that three hours – is it to meet the need, or would it only just meet a very small part of the need?
"Clearly, from our point of view, we're simply there to meet the need, all the need…," O'Brien said. "To meet that capacity of need you need two (road) lanes and you need to have about 48 hours to get sufficient trucks in."
He said last month that any Aleppo humanitarian pause needed to be 48 hours because the Castello Road was so damaged that only smaller trucks could be used, taking longer to deliver the assistance needed.
In Washington, State Department spokeswoman Elizabeth Trudeau said the United States would welcome any pause in fighting in Syria to facilitate delivery of vital humanitarian aid, but a truce must be observed by all parties.
Rudskoi said that a point for collecting the aid and forming convoys has been established near Handarat, on the northern outskirts of Aleppo.
Two weeks ago Russia and the Syrian government declared a joint humanitarian operation for the besieged area, showering it with leaflets telling fighters to surrender and civilians to leave through a number of "humanitarian corridors" it had set up.
Russian and Syrian warplanes have bombarded eastern Aleppo and other rebel-held areas of Syria daily for months and the United States suggested the humanitarian corridors plan may have been an attempt to depopulate the city so that the Syrian army could seize it.
"All seven humanitarian corridors, established for the exit of peaceful residents and militants who wanted to lay down their arms, are open and work around the clock," Rudskoi said. "An additional humanitarian corridor for militants with weapons continues to operate near the Castello Road."
He said that a "number" of armed groups, with weapons, had already left the eastern part of Aleppo through that corridor.
Rudskoi said the situation in the southwest of Aleppo remains difficult, with about 7,000 Jabhat Fatah al-Sham militants massing there for the past week and still being joined by new combatants. He said the militants had tanks, artillery and combat vehicles with weapons mounted on them.