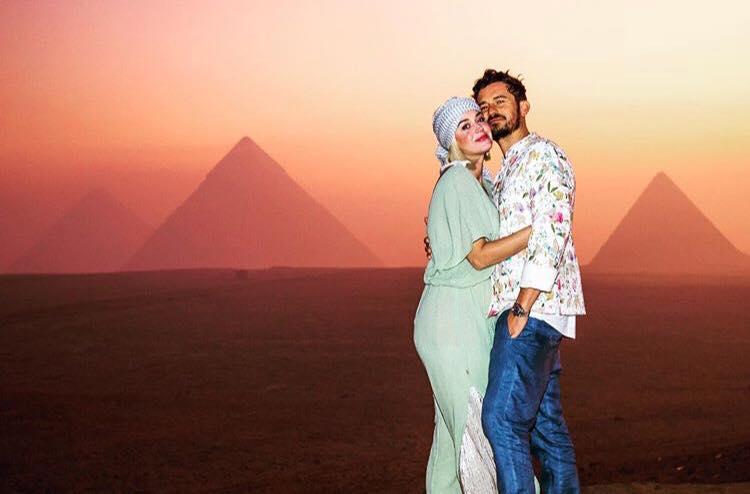 Rumors regarding the visit of America's prodigious Hollywood artist Katy Perry to Egypt were confirmed when the icon posted several photos of herself and her partner the distinguished actor Orlando Bloom in front of the Great Pyramids of Giza on her official Instagram account on Thursday, October 31.
"Ancient Egyptians believed that when you pass on your heart had to be weighed. It had to be lighter than a feather to be qualified for the trip to the afterlife. My mother has called me feather since I was a little girl and I hope after all is said and done my heart is as light as one. This is 35," Perry wrote on her photos.
Over the past few days news circulated about Perry's visit to Egypt after a photo of the iconic singer in a car with a Bedouin driver surfaced.  The photo was allegedly taken in Egypt's Siwa desert.
No further details were revealed about the trip. Perry's fascination with Ancient Egypt was previously reflected in the "Dark Horse" official music video.
Know for her vividly colorful sense of fashion, Perry released her first hit album "One of The Boys" in 2008, rocking the pop music world with skyrocketing sales.
She continued making global headlines with her hits including "Roar" and "Prism".
Furthermore, her single "Rise" in 2016 was featured at the Olympic Games in Rio de Janeiro. She also voiced the role of Smurfette in the movie "The Smurfs". In 2018, she joined the judges board of the music competition program American Idol.
Photo credit: Katy Perry's Instagram account