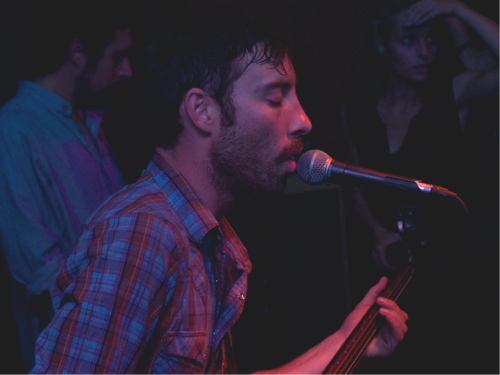 They didn't set anything on fire, and nobody got arrested — both signs of commendable restraint by a band known for the type of onstage antics likely to get them kicked out of most venues and, as was the case in 2009, India. But things were relatively calmer last week at the Cairo Jazz Club, where security (or one very upset-looking jock in a polo-shirt) mostly managed to keep a rowdier-than-usual crowd from banging heads with The Black Lips; an acclaimed rock band from Atlanta, Georgia, that is touring the Middle East and filming it for an upcoming documentary.
Egypt Independent sat down with Black Lips drummer Joe Bradley before the show — a performance that was a blissfully lo-fi blast of howling guitars, machine-gun drumming, and incoherent "singing," with the songs cranked up to lightning speed — to talk about the origin of the tour, and the exact whereabouts of Arabia Mountain.
Egypt Independent: Coming here, you must have had some sort of preconceived notions; you're going to places that are rarely visited by American rock bands, but there's also the fact that you're making a documentary about it.
Joe Bradley: Oh, sure. I mean, you're aware all media is biased, one-way or another, right? And in Western media they portray this region as … not very nice. But we knew that that wasn't the case, that there had to be a normal region with normal people, we knew it had to be more than what Western media depicts it as, otherwise it couldn't possibly exist. It couldn't just be that, and nothing else. But, yeah, people were still worried, and asking us why we were going. Some of our parents even emailed our managers, asking them to talk us out of coming here. And sometimes I get worried, too. Fear sells, and it's hard to just turn off what you're constantly hearing through the media.
But the idea, and especially with this documentary we're making, is to come [here] with a blank slate, and go back [home] with a different perspective, something other than "this brown guy with a beard is coming to bomb your house," which is completely unrealistic.
What we want is to show what we saw in the region when we visited it ourselves.
EI: Which is?
Bradley: A people in transition, fighting for what they believe in. I see more and more people standing up against the bullshit, and saying "fuck it." And that's very encouraging.
EI: Your last album was titled "Arabia Mountain," and I remember not knowing what to expect, in terms of sound, or how it would be different from your previous albums. But then I listened to it and …
Bradley: [laughs] … it wasn't very different
EI: No, it wasn't — which is a good thing. So the question is why "Arabia Mountain," and what exactly is it?
Bradley: "Arabia Mountain" is not really a mountain. It's just this exposed granite plateau about 30 minutes east of Atlanta. I don't know what purpose it serves. I've only been there once, which is when the photo on the album cover was taken. And we used the Saudi-style font just because it looked fun. I suppose you could say there's a mountain in every one of us that we each need to overcome [laughs]. But there's no relation to the region, it just worked out that way.
EI: But the interest in the region isn't spontaneous; you guys were planning a tour here last year, right?
Bradley: Yeah, we had even gone to the Syrian Embassy, which was so weird. All the people working there were attractive women, it was all very calm and there were pictures of Bashar [al-Assad] hanging everywhere. And this was right as things were heating up, before it turned into a full-blown proxy war. It's tragic, when you think of the initial wave of protesters who just wanted more freedom, and how much worse things have gotten for them; how convoluted the whole thing is now. But, yeah, we ended up waiting a year, it wasn't the right time.
EI: Are you working on a new album?
Bradley: Yes, we're slowly putting it together. We're trying to do what we did with "Arabia." Our normal process used to be recording songs without ever having previously played them 10 times, even. On "Arabia," we took more time, we worked longer on making the songs stronger. That's what we'd like to do with this one. And we might get [producer] Mark Ronson again.
EI: And that must have not seemed like the most obvious choice at first [Ronson produced "Arabia Mountain"]. How was that decision reached?
Bradley: Vice was pushing for us to have a "producer," which was something we'd never had before. So we just threw out some names at them, just for fun: Dre, Timbaland. Like huge names. But then we were listening to [Amy Winehouse's] "Back to Black," and it has such a great sound. And you know Ronson works with the Dap-kings [Daptones Records' house band, and of Sharon Jones and the Dap-kings fame], and they all have a great ear, and the best analogue equipment. So we gave his name to Vice and were very surprised when he actually agreed. And it was great; he didn't want to change our songs; he just worked on the sound and did what he's great at, creating that 60's sound with a warm rhythm section.
EI: Have you been exploring the music in the different cities you've been visiting?
Bradley: Yeah. Over the past year I've become very interested in traditional sounds from different regions. I've really gotten into traditional Yemeni oud; it gives me the goosebumps. And of course, Omar Souleyman, particularly "Atabat" and "I Will Make a Trap," which is one of the most abrasive songs you'll ever hear. It's great. All these sounds are very interesting to Western ears. I'd love to learn to sing like the call-to-prayer guys in the mosques, if that'd be possible. I'd like to listen to more of what the people here are listening to — but not necessarily the newer stuff; not the pop sensibilities which are identical everywhere — but the older stuff, the purer sound. If you want the freshest water, you have to go straight to the well. Right?