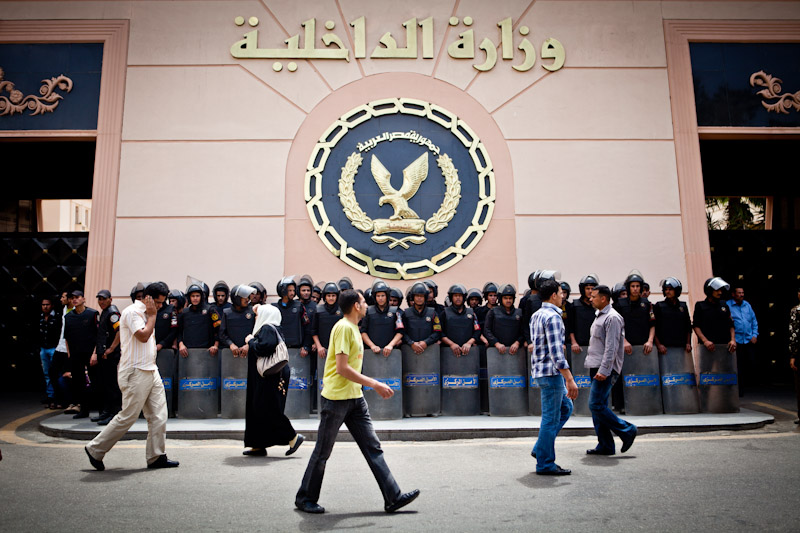 Security closed on Monday all entrances to the Interior Ministry in Downtown Cairo as part of a nationwide security plan to secure public facilities during the celebration of the fifth anniversary of the January 25 uprising.
Streets leading to the Giza Security Directorate have also been closed.
Security has been put on alert to mark the event which coincides with national Police Day celebrations.
Tahrir Square, the epicenter of the uprising that toppled former President Hosni Mubarak, located a few meters from the Interior Ministry, was also put under tight army and police control.
The outlawed Muslim Brotherhood, whom Sisi ousted from government in 2013, has called for continuing protests against his government. But observers have seen limited chances for wide-scale protests as thousands of activists from the Brotherhood and other political stripes are serving time in prison over multiple charges mostly related to unlicensed protesting and violence.
Security forces have escalated arrests of advocates of the January 25 protests over the past few weeks. Meanwhile, many media figures and politicians allied with Sisi's government have been vocal about the punishment protestors would receive, arguing that celebrations should be for Police Day alone, rather than for the popular uprising.
Sisi had already advised against protesting on that day during a speech in December, asking why the advocates of demonstrations would want to "ruin" the country.
Edited translation from Al-Masry Al-Youm