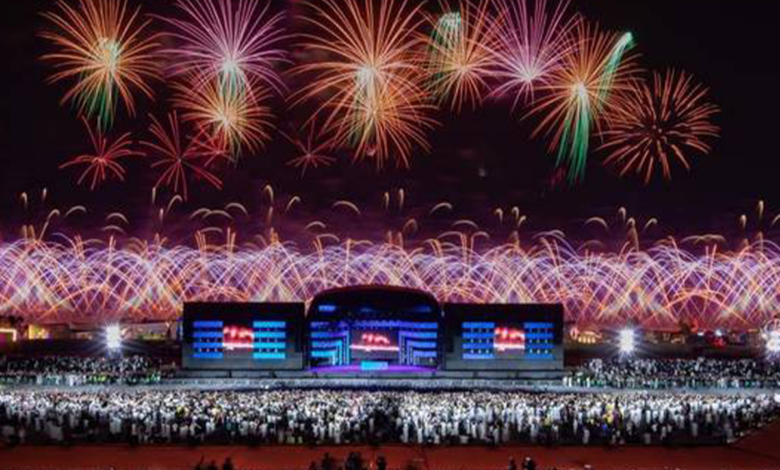 Head of the Saudi General Entertainment Authority Turki Al-Sheikh announced that the Riyadh Season 2022, obtained a Guinness World Record for "the most remote-operated drones launching fireworks simultaneously" at the official opening ceremony.
A video clip showed a representative of Guinness World Record handing over the record certificate to one of the authority's officials, during the opening ceremony, on Friday.
Al-Sheikh announced, through his official account on Twitter, the launch of the festival on Friday evening with a fireworks and drones show.
The Okaz Saudi newspaper quoted the General Entertainment Authority as stating that the season will have 8,500 different activities and international shows.
This also included the famous Cirque du Soleil and a concert by English singer Anne-Marie in the inauguration ceremony.
On Friday, Al-Sheikh inaugurated the  Riyadh Season 2022, under the slogan "Beyond Imagination".
Sheikh said in a press conference that the new season includes 15 zones, each of which is characterized by a special entertainment feature.
The most prominent area is "Boulevard World", which represents the cultures of several countries around the world, such as the US, France, Greece, India, China, Spain, Japan, Morocco, Mexico, and Italian Venice.
All these countries will be represented through restaurants, markets and arts, according to the Saudi Press Agency.
The new "Boulevard World" area, which is inaugurated for the first time in the Riyadh Season 2022, includes the largest artificial lake in the world, where visitors can enjoy a ride on submarines for the first time in Riyadh.