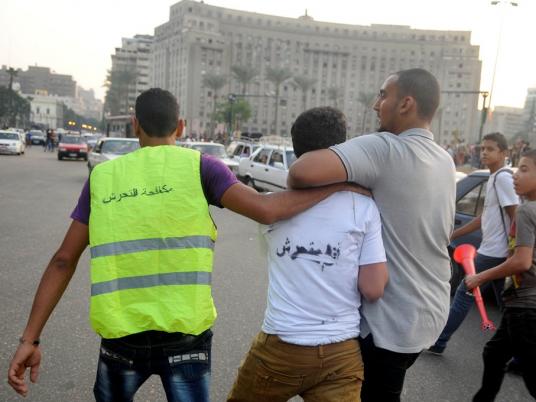 In their youth, many Egyptian girls will have looked forward to the Eid al-Fitr holiday each year, excited about wearing the new clothes, performing the Eid prayer, and visiting public gardens with their family. However, as they grow older, they increasingly find themselves viewing Eid as a nightmare, a time of stress and worry due to the dangers of sexual assault.
The phenomenon of serious verbal and physical assault on women during Eid has been on the rise in recent years, say campaigners, a phenomenon that has ruined the happiness of many females across Egypt.
While sexual assault is endemic in Egypt, it is particularly prominent during national holidays, with Eid al-Fitr among the most dangerous times for women to be in public places. In 2006, the problem gained international media attention when several women suffered a brutal sexual attack in downtown Cairo on the first day of Eid.
"The girls were panicked and were running about everywhere with tears on their faces. They came to our clothes shop to shelter from the attackers," a shop owner told journalists at the time.
Nine years later, the problem was just as bad, if not worse, with 447 verbal and physical sex attacks reported during the 2015 Eid holiday, according to the "I Saw Harassment" initiative. Of those reported, two were attributed to members of the security forces.
"I never go to a cinema or any crowded places because of sexual harassment," says 24-year-old designer Heba Hashem. "But that does not mean we have to stay at home depressed and never go out due to our fear. I usually hang out with my family and friends, but in quiet places."
Heba urges the government to step up efforts to stop sexual harassment, making their presence felt in public spaces.
Amira Selim, a 20-year-old medical student, is likewise cautious about her movements during Eid.
"Every Eid I feel afraid to leave my home," she says, "but that doesn't mean I stay at home all through the vacation. I usually go to high-quality restaurants or quiet places where I won't find the harassers you would come across on the street."
Selim says she usually avoids crowded places and tries to take a lift from her parents if she wants to go anywhere.
Salma Emad, 22, who works in HR, says that she never goes out during the vacation. "Sometimes I feel very bored staying at home, but this feeling is much better than the scenes of sexual harassment I see in the streets every Eid," she says.
Houswife Hanan Mohamed, 40, says that she and her family avoid the city streets during Eid. "When we were young, we could not wait for Eid to wear the new clothes and to go on picnics with our families in the gardens," she says. "But now the situation is horrible and unsafe. I never let any of daughters leave home alone during Eid due to the disgusting scenes we are used to seeing of sexual harassment in the streets. We either travel or stay indoors."
Nagwa Ahmed, meanwhile, says that the situation is worse for Cairo families on a low income, since they cannot afford to travel far, and the sorts of places they visit locally — such as public gardens, feluccas or the Nile Corniche — are swarming with harassers.
This year, the government says it is making a special effort to reduce the level of harassment and sexual assault, deploying security forces on the streets and other public places in large nubmers. As well as the uniformed presence, the Interior Ministry says it is deploying security personnel in plain clothes to monitor the situation and respond to any incidents.
The ministry's efforts are being backed up this year by the National Council for Women (NCW), which has been urging proper precautions to prevent attacks. Maya Morsy, president of the NCW, said in a statement that the organization has worked with the ministry to set up a hotline to deal with complaints about harassment, allowing people to report incidents or dangerous situations.
The NCW hotline number is: 15 115.
Morsy says that a group of NCW lawyers will support women who wish to file a lawsuit alleging assault, as well as acting as go-betweens with the police.
The NCW efforts are part of its "Emsek Motharesh" (Catch a Harasser) initiative this year, which aims to turn the tables on harassers, identifying them to police and seeking to prosecute them for their crimes.
The same campaign has also issued advice to women with a view to helping them stay safe this Eid. In a press statement, the NCW listed various places that are plagued by harassers, including: the gardens of Asmak, Orman Fustat and Maryland, along with Giza Zoo and Al-Azhar Park.
"During the Eid vacation most Egyptian gardens are transformed from a pleasant garden where people can enjoy the beauty of nature into a painful experience that terrifies any girl who wants to exercise her legitimate right to hang out with her friends or family. The verbal and physical assaults of harassers spoil her happiness and the experience remains engraved in her memory as a black event that happened during Eid," says the campaign literature.
The campaign also involves direct action to respond to incidents as they occur. About 200 volunteers will be deployed in key spots in Cairo, and 50 others in other cities, working in groups of 10. Male volunteers will physically intervene if they see women being attacked. The role of female volunteers is limited to the psychological rehabilitation of girls who were subjected to harassment, as well as publicizing the campaign hotline.
Volunteers in Cairo will be focused in the downtown area, particularly in the areas around three cinemas: Miami, Rivoli and Metro. They will patrol Talaat Harb Street, 26 July Street, and the areas around Tahrir Square, Abdel Moneim Riad Square, and Kasr Al-Nil bridge.
They will also be present along the Nile Corniche, on the river boats, in Haram Street and Gamet al-Doawl Street. Similar patrols will take palce the cities of Alexandria, Port Said and Ismailia.
Women planning to go on picnics during Eid are also encouraged to save the Interior Ministry's hotline numbers in their phones: 01126977222 and 01126977333.
Two more numbers, both from the Emsek Motharesh initiative, should also be saved in case of emergency: 01280183137 and 01157015570.
Morsy says that Egyptian law is very clear on the illegality of sexual harassment and such behaviour should not be tolerated.
"The 2014 Constitution includes more than 20 articles protecting Egyptian women, most notably Article 11, which states that 'the nation is committed to protecting women from all forms of violence,'" Morsy said.
There is also the law against sexual harassment, added to the penal code in 2014, which criminalizes sexual harassment and sets the punishment at not less than six months in prison and a fine of between LE3,000 and LE5,000.