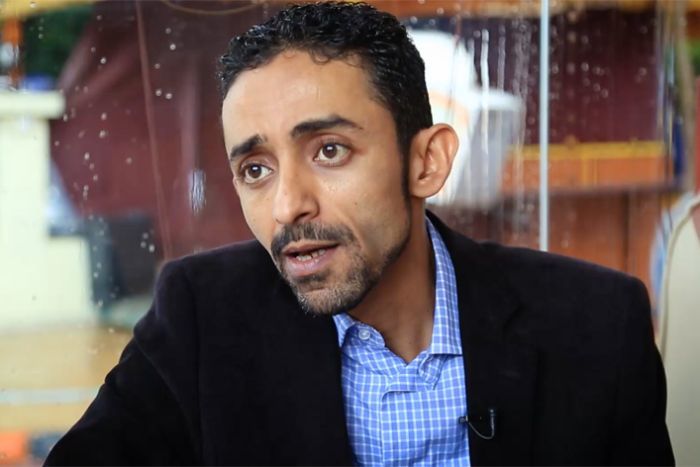 International rights groups on Friday urged Yemen's Shia rebels to free a prominent Yemeni activist who used social media to document the war that has ravaged his impoverished Arab country.
Human Rights Watch said that Hisham al-Omeisy, a vocal critic of Yemen's warring parties, is being held without charges in an undisclosed location after he was detained on Aug. 14 in the capital, Sanaa.
The New York-based group said al-Omeisy's family and lawyers have had no access to him.
"Yemen more than ever needs activists like Hisham al-Omeisy to bring attention to the devastation that war, famine, and disease have wrought on the country and its people," said Sarah Leah Whitson, the Mideast director at Human Rights Watch.
Amnesty International also made a similar appeal for al-Omeisy's release.
It said his arrest was part of an ongoing crackdown targeting activists, journalists, lawyers, and minorities. The HRW has documented dozens of cases of forced disappearances and arbitrary arrests, in addition to cases of torture to death inside Houthi-run facilities.
Yemen's conflict began after the Houthis swept into Sanaa in 2014 and overthrew President Abed-Rabbo Mansour Hadi's internationally recognized government, forcing it to seek military support from Arab Gulf countries.
In March 2015, a Saudi-led coalition began a campaign in support of Hadi's govern and against the Houthis, allied with ousted President Ali Abdullah Saleh.
The conflict has killed over 10,000 civilians, displaced 3 million people and pushed the impoverished nation to the brink of famine.
Samah Hadid, Amnesty's head for Mideast campaigns, said al-Omeisy's "detention illustrates the lengths to which local Houthi-Saleh authorities are willing to go to silence peaceful activists."