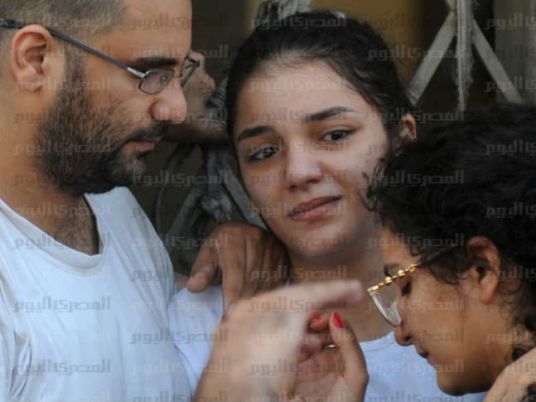 A human rights organization has petitioned the presidency for the release of 23 young activists jailed for breaking the protest law during demonstrations outside the presidential palace last year.
The Egyptian Organization for Human Rights urged the presidency to release the defendants sentenced to prison over the June 2014 protests outside the Ettehadiya Presidential Palace, where they demanded the release of friends also detained for breaking protest laws.
A court had sentenced the defendants to three years and fined them LE10,000, before accepting their appeal and reducing the sentence to only two years.
Tarek al-Awady, the lawyer representing prominent anti-military activist Ahmed Douma, jailed in a separate case for unlicensed protests, told Dream TV on Saturday he had been told by media agencies close to the presidency that President Abdel Fattah al-Sisi was considering a pardon for the defendants, most notably Douma and Sanaa Seif.
"The verdict comes at a time where the right of assembly has become absolute and guaranteed by prior notification not by a permit," the EOHR said in its
petition
, citing the 37th Article of the 2014 Constitution.