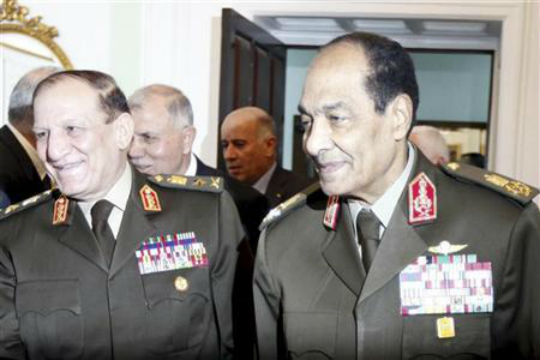 Representatives from revolutionary movements filed a complaint against former Defense Minister Field Marshal Hussein Tantawi and former military Chief of Staff Sami Anan on Tuesday, accusing them of murder and attempted murder during the clashes at Maspero, on Mohamed Mahmoud Street, and in front of the Cabinet building.
The April 6 Youth Movement Democratic Front filed a group complaint, in cooperation with other revolutionary movements, demanding a swift trial for the two senior officers.
Tantawi was head of the Supreme Council of the Armed Forces from 11 February 2011 when former President Hosni Mubarak stepped down until President Mohamed Morsy was sworn into office on 30 June 2012. Anan was the deputy chief of the military council during this period.
Activist Ahmed Douma, who filed a complaint on 16 August accusing the military council of murder, said complaints against the military council would be taken from all governorates and combined into one case. He also said that the April 6 movement and other activists would organize a campaign called "Retribution is a Right" to expose the military council's violations and demand a trial of the generals.
Douma said that the public prosecutor received the complaints and is following the required procedures to deal with them.
The transitional period presided over by the SCAF was marked by a number of bloody incidents during which protesters were killed.
In October 2011, 28 died when military forces brutally dispersed a peaceful, Coptic-led march outside the state television building, known as Maspero. Video clips circulated of protesters being mowed down by an armored vehicle, and 14 reportedly died after being run over. The military blamed an anonymous third party, which it said had stolen army weapons and tanks for the attack.
Clashes lasted for five days on Mohamed Mahmoud Street in November 2011 after security forces tried to break up a sit-in of revolutionary martyrs' families in Tahrir Square. Forty-five people died and hundreds were injured. Shortly after in December 2011, 17 were killed after the military violently disbanded a sit-in in front of the Cabinet building protesting Kamal al-Ganzouri's appointment as prime minister.
Edited translation from Al-Masry Al-Youm