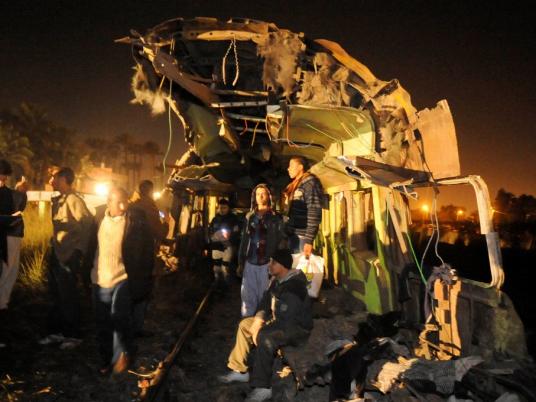 In the wake of the deadly Badrashin train crash Monday, which left 19 people dead and 117 injured, a Transportation Ministry report shows the country has experienced an average 550 train wrecks per year, including both serious and minor ones.
The report, compiled by the ministry's Transportation Safety Unit, said 18 percent, or 563 kilometers, of railway lines operate safely because they depend on electric signals, while 82 percent, or 5,500 kilometers, are less safe because they depend on mechanical signals.
Railway crossing crashes amounted to an average of 142 per year, killing and wounding about 265 people. Fifty-eight of those crashes took place at official crossings, and the rest at makeshift ones, with a rate of 12 crashes per month.
The report attributed the crash causes to technical defects, such as railway bars being set more than two centimeters apart, as well as maintenance mistakes and human error, such as speeding, insecure parking or poor distribution of cargo among carriages.
Two train carriages carrying Central Security Forces conscripts separated and derailed at Monday at Badrashin Station in Giza, provoking anger and protests over railway safety and the country's infrastructure in general.
Transportation Minister Hatem Abdel Latif said Wednesday that the transportation sector needs LE170 million to provide the spare parts needed for periodical maintenance and LE300 million for train engine maintenance.
The railways industry suffers several shortcomings, the minister said, speaking at a news conference at the Cabinet headquarters.
"We have 3,300 railway carriages, 80–85 percent of which have become unfit for use," the minister said, saying some practices should be adjusted to avoid disasters like the one in Badrashin.
Abdel Latif said contracts have been made to buy 221 carriages, and that 336 more would be bought.
He stressed the necessity of restructuring railways maintenance, saying control over railways maintenance could be from outside the National Railway Authority.
Meanwhile, Shura Council Speaker Ahmed Fahmy decided Wednesday to form a parliamentary committee to investigate the circumstances of the Badrashin train wreck.
MP Mohamed Sadeq, head of the Shura Council Transportation Committee, called on the government to provide the funding necessary for improving the railway industry. He also highlighted the necessity of hiring qualified workers.
The deadly crash comes only months after a train wreck in Assiut left 51 schoolchildren dead, after a train hit their school bus at a railway crossing.
Edited translation from Al-Masry Al-Youm