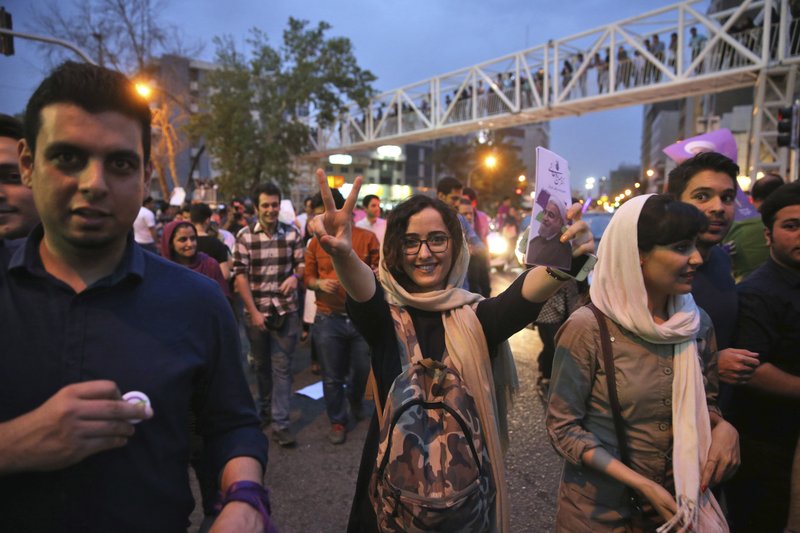 Reformist candidates swept municipal elections in Iran's capital, taking all 21 seats in Tehran as moderate President Hassan Rouhani won a second term, state media reported Monday.
Iranian state television reported Monday that Mohsen Hashemi Rafsanjani, a son of the influential late former President Akbar Hashemi Rafsanjani, won more than 1.7 million votes to come in first among the candidates. Rafsanjani's vote total surpassed all the votes received by hard-line cleric Ebrahim Raisi in his failed presidential bid against Rouhani.
The reformist win in Friday's election marks the first time reformists have totally controlled Tehran's municipal council since such votes began in 1999. Iranian media also reported similar big gains for reformists in other major cities, signaling a groundswell of support for slowly changing governance in the Islamic Republic.
Iranian municipal councils choose mayors and decide on budgets and development projects. While leaving day-to-day operations to mayors, the councils play an important role in local oversight of municipal activities.
The sweep means reformists can replace Tehran Mayor Mohammad Bagher Qalibaf, who had been a presidential candidate before withdrawing to support Raisi.
Rouhani, a cleric whose administration struck the 2015 landmark nuclear deal with world powers, decisively won a second term in Friday's election. His success at the polls likely carried reformist candidates to victory in other municipal elections as well.
The reformist daily newspaper Shargh reported Monday that reformists also are leading in other major cities in Iran, like Isfahan, Kerman, Mashhad, Semnan, Shiraz, Tabriz and Zahedan. Each province's governor announces the final results of the municipal elections and tallying results from those votes always take more time than presidential polls.