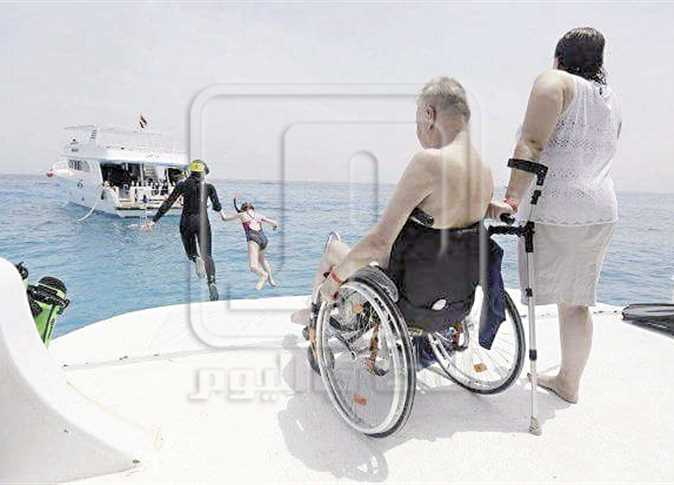 Diving has become popular sport around the world, particularly in the depths of the Red Sea. In a move for greater inclusiveness, diving centers are organizing trips for tourists with impaired physical mobility.
After undertaking special training with experienced diving instructors, their disabilities can't stop them from deep diving in the Red Sea and enjoying the area's treasured marine life, coral reefs and colorful fish.
Diving centers in Hurghada, Safaga and Marsa Alam now offer trips to disabled divers following a promotional campaign to encourage inclusivity in tourism. The cost of a diving trip for disabled tourists is about 40% higher than for able-bodied divers.
One of the diving areas in Safaga city organized a diving cruise for 40 disabled tourists from Poland which toured around the Red Sea's coral reefs, as part of the tourism campaign for people with special needs.
Hurghada diving center officials were alerted about the demand from disabled European tourists, particularly Germans, to embark on a diving adventure deep in the Red Sea.
Ashraf Saleh, the owner of a diving center in Hurghada specialized in organizing diving trips for tourists with disabilities, says they prepared for the new divers with intensive training courses for the staff on how to deal with physically disabled people. The center also prepped the swimming pools, where divers receive preliminary diving training and learn to use diving equipment, for compatibility with wheelchairs.
Saleh's partner at the Diving Center, a German national, has started promoting these kind of trips by contracting with some clubs for differently-abled people in Germany, which will send over its members who are willing to practice diving in Hurghada.
Saleh explained that disabled divers have great difficulties to overcome, but this can be achieved through intensive training courses for diving instructors and companions for underwater tourists in the depths.
He said the trip does not start in the waters of the Red Sea, but begins immediately upon arrival for those wishing to practice the sport in their hotel.
The diving center's staff trains the tourist for several days and ensure he or she has a good knowledge of the diving devices; the tourists are then taken to the diving areas in the Red Sea.
Upon arrival at the agreed dive spot, the disabled tourists are helped to stand on the back of the launch boat. They then descend into the water — the most difficult stage. The diving instructor accompanying each group of tourists guides them and there is special care for disabled divers.
Mohamed Sewilam, a diving center owner, revealed that tourists with mobility problems in Europe have a love of adventure and enjoy seeing the depths of the Red Sea and the colorful fish. A number of clubs for disabled people have begun to show interest in these trips to boost their members' spirits.