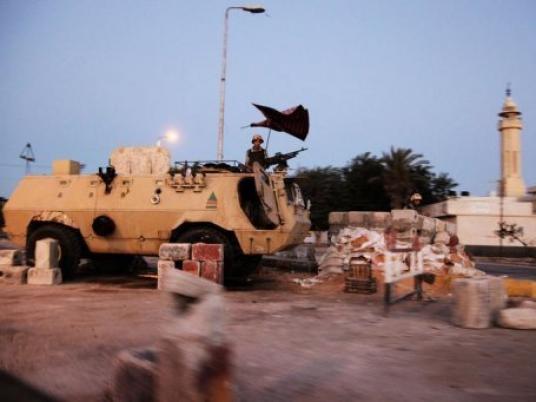 Anonymous gunmen exchanged fire early Friday morning with security forces at the Rayesa checkpoint on the Rafah-Arish international road, leaving no victims.
Eyewitnesses said that the gunmen targeted the checkpoint from south of the international road then security forces exchanged fire with them until they fled into the desert.
Security forces are currently combing the area and inspecting the cars in search of the assailants.
The same checkpoint has been subjected to numerous attacks since the revolutions, the latest taking place on 27 August.
Rayesa checkpoint's security forces are stationed at the eastern entrance to Arish on the road leading to Rafah. It includes armed forces and police.
A number of checkpoints have been targeted in August. Egyptian authorities have speculated that extremist groups are behind these attacks.
The armed forces cracked down on militant networks in Sinai following the 5 August attack on a checkpoint near Rafah that killed 16 soldiers.
A Defense Ministry statement said on Wednesday that 11 militants were killed and 23 arrested during the campaign, called Operation Eagle. It added that 11 vehicles have been seized, along with ammunition, including five boxes of Israeli-made ammunition, but did not give details.
Edited translation from MENA