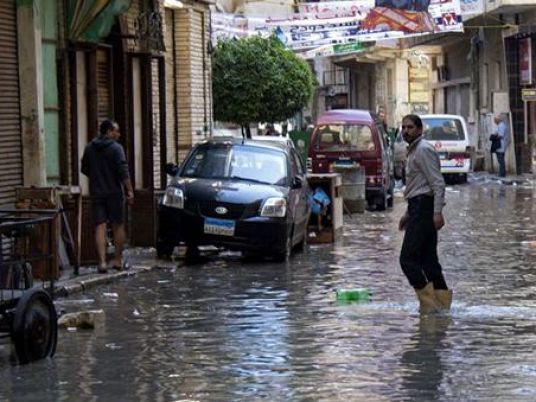 Prime Minister Sherif Ismail's visit to Ras Gharib on Saturday was interrupted by angry residents protesting what they see as a slow response to flooding in the area.
Ismail visited the Red Sea town in order to inspect the official response to 48 hours of flooding from heavy rain that destroyed homes, cut roads and power supplies, killing and injuring dozens.
The government has ordered emergency funds to restore services and repair damaged infrastructure, as well as compentation for the families of those killed and injured.
However, Ismail's visit to Ras Gharib lasted only 25 minutes, with several relatives stopping his motorcade and preventing him from entering the downtown area.
Dozens of residents cut the coastal road leading to Cairo, chanting slogans against the prime minister, complaining about water and electricity cuts resulting from the floods.
Ismail tried to calm citizens and promised to meet all their demands.
He said that President Abdel Fattah al-Sisi had informed him by telephone that LE50 million would be allocated for compensating those affected by the floods, in addition to another LE50 million to repair damaged infrastructure.
According to the Health Ministry, 27 people have so far been confirmed dead across four governorates, although the number may rise as more bodies turn up.
The death toll in Ras Gharib rose to 11 after residents found a dead man 20 kilometers south of the city.
A committee from the Ministry of Solidarity carried out an inventory of the losses prior to compensating those affected in Ras Gharib.
Each of the families of those killed will be granted LE10,000, with the familes of those injured getting LE2,000 to each.
Edited translation from Al-Masry Al-Youm