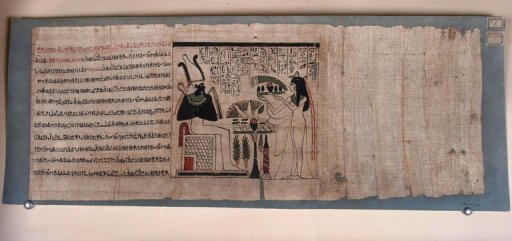 A British historian said Saturday he had unearthed a trove of Egyptian Book of the Dead fragments by a top ancient official after chancing upon a scrap on show in an Australian museum.
John Taylor, a world-famous Egyptologist from the British Museum, said his discovery began with a shred of papyrus on display at Queensland Museum's new mummies exhibition bearing the distinctive hieroglyphs of Amenhotep.
The 15th century BC figure, son of Hapu, was Egypt's chief architect and is among those credited with designing and constructing the Great Temple of Amun at Karnak, near Luxor—one of modern Egypt's most visited landmarks.
Excited and intrigued, Taylor said he asked if there were any more such fragments in the museum's archives and was shown into the conservation lab.
"After a very short period of time it became apparent that we did indeed have many fragments of the Book of the Dead of this extremely important man," he told the Weekend Australian newspaper.
"This is not the papyrus of just anybody, this is one of the top officials in Egypt at the peak of Egyptian prosperity," added Taylor, describing it as a "once in a lifetime" find.
The fragments were donated to the museum by a private citizen in 1913 and are not normally on public display, but had been brought out to accompany the British Museum's touring mummies exhibition, which Taylor was here to open.
He said there were pieces of Amenhotep's scroll scattered across global institutions including the Boston Museum of Fine Arts, British Museum and New York's Metropolitan Museum of Art.
The Australian specimens would be photographed to try and determine where they fit in the scroll, which Taylor said could be up to 20 meters long—among the largest and most significant Egyptian burial scripts recorded.
"In Egypt in the 1890s people were collecting and digging up antiquities at a very fast rate and often it wasn't documented where these things were going," he said.
"Private individuals would go on holidays to Egypt and buy things like this and take them home, so there's still a lot of material out there that people haven't seen."