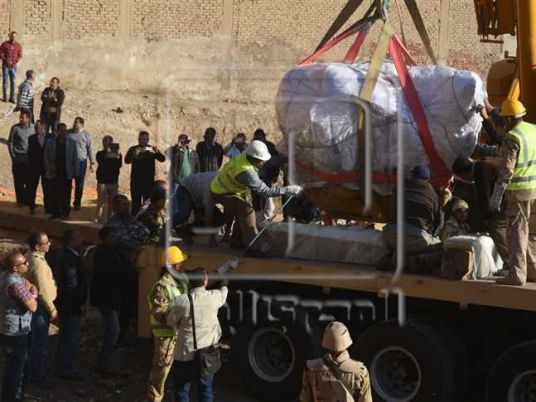 The eight-meter statue of Ramses II and other relics unearthed in Matariya arrived at the Egyptian Museum in Tahrir Square early on Thursday.
State-run Nile News TV channel aired the transfer of the statue, which was carried out by the armed forces' transportation department in cooperation with the Ministry of Antiquities. The process began after midnight from Matariya Square, reaching the museum at 4 am on Thursday.
The convoy moved slowly to protect the colussus from any damage due to friction. The statue weights about 8.5 tons, making this a mammoth task in addition to transferring the other relics including the head of the statue, which weighs 1.5 tons, according to sources from the ministry.
Antiquities Minister Khaled al-Anany and Tourism Minister Yehia Rashed are scheduled to hold an international press conference in the museum garden at 6 pm.
The convoy travelled via the Ring Road, starting at Mostord to Saft al-Laban bridge until Cairo University; then to Dokki Bridge followed by October Bridge until arriving at Abdel Moneim Riyad Square, and finally Tahrir Square, where the museum is located.
The discovery of the statue will bolster Egypt's famed ancient collections, helping to attract more tourists.
Two statues of Ramses II were discovered submerged in groundwater by an Egyptian-German archeological mission that has been working around the country.
The ministry has been working on moving the monuments to the Egyptian Museum to carry out preliminary restorations before transferring these to the Grand Museum.
Edited translation from MENA