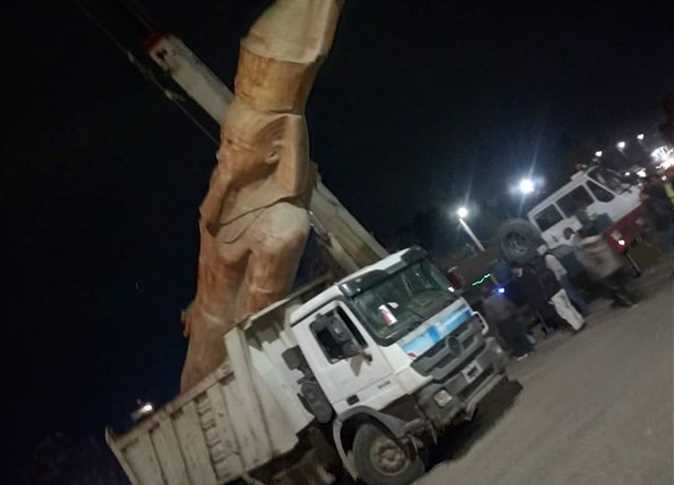 A Ramses II obelisk, parts of which were unearthed in Egypt last August, is set to be fully re-assembled and displayed in downtown Cairo's busy Tahrir Square, after the foundation of the monument was successfully installed in the center of the well-known traffic circle.
The step came as part of the government efforts to revamp the iconic square and draw attention to Egypt's rich ancient history, with Egypt's Ministry of Antiquities having transported eight blocks of the statue unearthed in August 2019 at Zagazig, a city in Lower Egypt. The monument in its entirety was set to be showcased in the square after undergoing a restoration process.
After the substructure has been mounted, the rest of the statue will be installed during the upcoming period after being refurbished and having its eight blocks reattached. Standing at a height of nearly 17 meters when fully assembled, the King Ramses II obelisk weighs an impressive 90 tons and is made of pink granite, according to previous statements from Egypt's Minister of Tourism and Antiquities Khaled al-Anani.
The statue will be topped with the shape of a pyramid carrying the title of Egypt's most prominent ancient king.
Anani said previously that there is no danger in transporting the obelisk, explaining that the process took place under tight security that ensured the safety of the statue.
"We will not place a single brick in any location in Egypt if there is any risk in doing so. We are the protectors of the ancient Egyptian civilization and we won't expose (artifacts) to any danger," he resumed.
Four sphinx statues from the Upper Egyptian city of Luxor's Karnak Temple are also set to be displayed in the revamped Tahrir Square, in addition to the transfer of an obelisk from the same area.
The move to transfer authentic artifacts to the busy downtown square received local and international criticism, with Egyptian MP Haitham Abuoul Ezz al-Hariry submitting an urgent letter last December addressing Prime Minister Mostafa Madbouly and rejecting the controversial transfer of the obelisk and Karnak Temple statues from Luxor to Cairo.
Hariry pointed to the 7th article of the Venice Charter for the Conservation and Restoration of Monuments and Sites, which serves as the main reference for the UNESCO World Heritage Convention issued in 1974 and signed by Egypt.
The charter states that it is not permissible to move a monument or any part of it except for the purpose of preservation, according to Hariry, who argued that the removal of an authentic part of the archaeological site in Luxor was in violation of norms set by the international community.