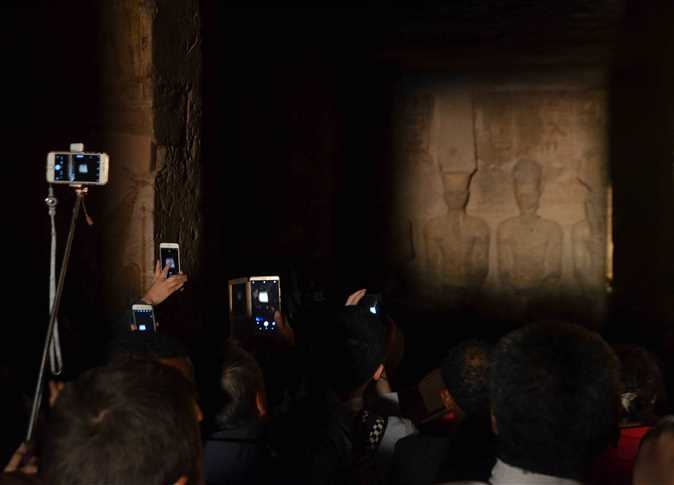 3500 tourists and Egyptian visitors witnessed, Sunday, the bi-yearly phenomenon of the sun's alignment with the face of King Ramses II's statue. The remarkable event was not accompanied by the usual pomp and circumstance, as the state was in mourning over 16 police victims, killed in clashes with terrorists in Bahariya Oasis on Friday.
The rare solar events and accompanying celebrations are meant to mark key dates in the pharaoh's life.
The first alignment takes place on February 22, marking his assumption to the throne, and the second on October 22, marking his birthday.
In this phenomomen, the sun's rays penetrate the halls of Abu Simbel Temple and illuminate the head of a Ramses II statue, 60 meters high, within the building. The Ramses statue is surrounded by figures of Ptah, Amun-Ra, and Ra Harakhte.
The 3,300-year-old occurrence is unique, embodying the scientific progress made by ancient Egyptians, particularly in the fields of astrology, sculpture, engineering and planning, as demonstrated by their ancient artifacts.
Antiquities Minister Khaled al-Anani attended the event at Abu Simbel temple in Aswan on Sunday morning, along with Culture Minister Helmy al-Namnam, Aswan Governor Magdy Hegazy, and Head of Aswan Security Directorate Major General Fathallah Hosny.
Edited Translation from Al-Masry Al-Youm