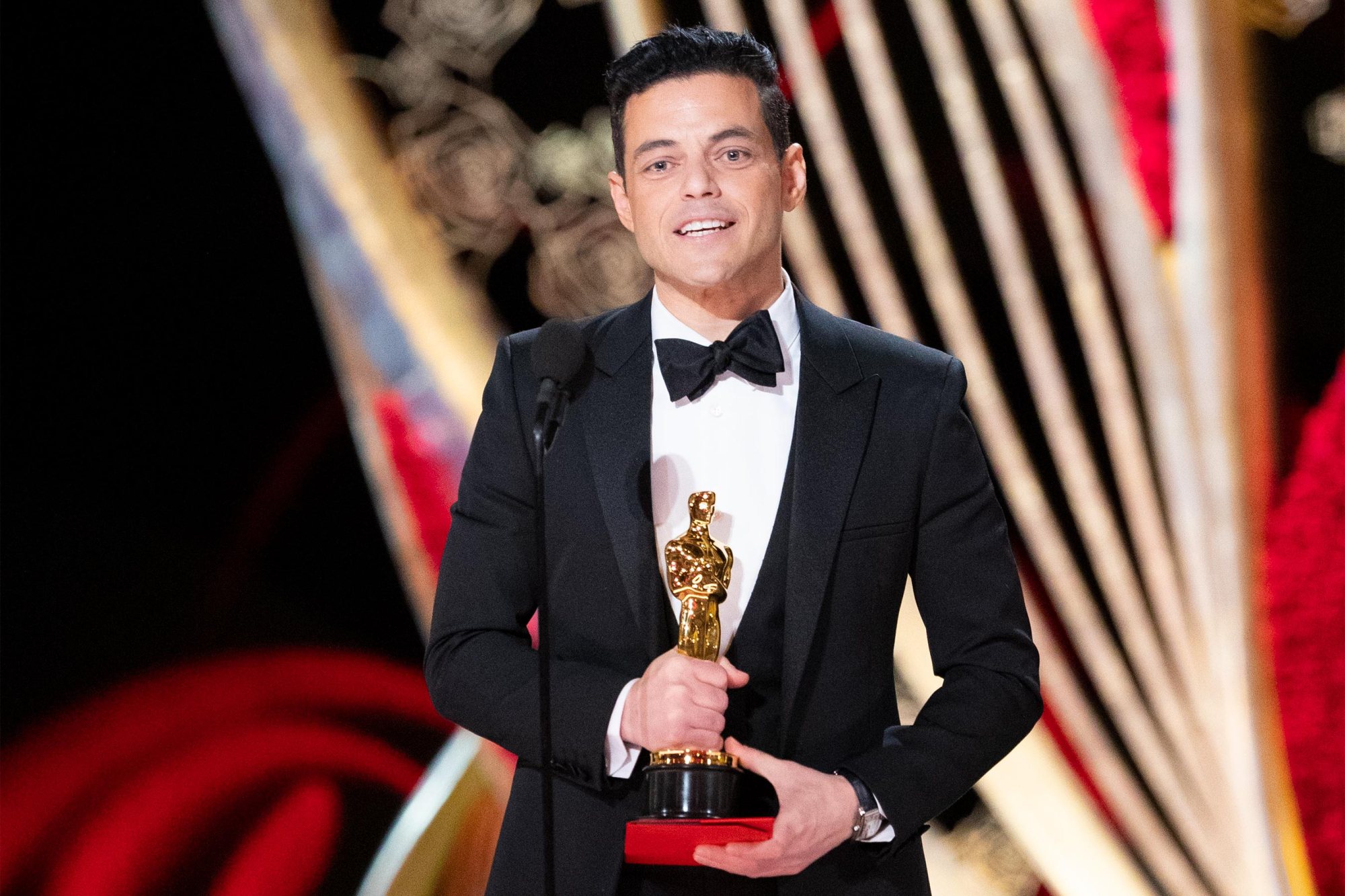 Egyptian-American actor Rami Malek won the Oscar for Best Actor at the 91st Academy Awards for his exceptional portrayal of Freddie Mercury, the legendary front man of the British rock band Queen, in the biopic film "Bohemian Rhapsody".
Malek was able to win the award over Christian Bale, who portrayed Dick Cheney in "Vice", and Bradley Cooper, who portrayed musician Jack Maine in "A Star Is Born".
Besides his brilliant performance in "Bohemian Rhapsody", Malek is known for his role in the USA Network television series "Mr. Robot". He has received several awards for his biggest role so far, including the Golden Globe, Screen Actors Guild Award, BAFTA, and more.
Overwhelmed with amazement as he took the stage to receive his award, Malek's first words were "Oh my God."
"My mom is in here somewhere — oh, I love you lady," Malek said, trying to figure out where his mother was sitting in the auditorium.
"My dad didn't get to see me do any of this, but I think he's looking down on me right now," he added. He paid tribute to his family, who he said always has his back.
In a few humble words, Malek reflected significantly on the common line between his personal life and Mercury's, saying, "Listen, we made a film about a gay man, an immigrant… We're longing for stories like this. I am the son of immigrants from Egypt. I'm a first-generation American. Part of my story is being written right now."
He pointed out that the film's enormous success indicates the appetite for minorities' stories, adding that he searched for humanity in Mercury's diverse battles and challenges.
The breakout star directed these words at whoever is struggling with their own identity and still trying to discover their voice, saying that he's been there, but now he has finally found his voice as an artist who is standing on the world's most prominent stage on such a triumphant evening.
As the son of Upper Egyptian parents thanked the late Mercury, he looked to Queen's surviving members, lead guitarist Brian May and lead drummer Roger Taylor, who were almost in tears, saying, "This is a monumental moment… Thank you, Queen, for letting me be the tiniest part of your phenomenal, extraordinary legacy… I'm forever in your debt."
"I may not have been the obvious choice, but I guess it worked out," Malek stated, pointing to the fact that he wasn't the first suggestion for the role.
Malek proved that hard work pays off through his extraordinary preparations for his leading role in "Bohemian Rhapsody". He started to dig into Mercury's life, using every single detail he could get.
During his prior interview with Entertainment Weekly, Malek stated that he spent the preparation phase screening performances, reading biographies, and studying old notes and photos. He also used to interrogate Queen co-founders May and Taylor, who have now become very close friends with Malek. The actor has kept diving into Mercury's world even after the film has unfolded.
In the same vein, Malek previously declared that he promised producer Graham that he'd bleed for the Mercury role.
"Lucy Boynton, you are the heart of this film. You are beyond immensely talented; you have captured my heart. Thank you so much," Malek concluded, humbly thanking co-star Lucy Boynton.
Referring to the tough journey of a man with origins from Samalut who made it to the Oscars with success, Malek eventually participated in the backstage press junket, affirming that he never thought this would happen in his life.
"The one thing I can say about this is, as an actor, and there are so many of us that dream of one thing — it's just getting a job. So the fact that I have this in my hand right now is beyond an expectation that myself or perhaps my family could have ever had," he added to The Hollywood Reporter.
Remarkably, "Bohemian Rhapsody" won five Oscar awards: Best Picture, Best Actor, Best Sound Editing, Best Film Editing, and Best Sound Mixing.
The film was under development for eight years before it reached success both critically and commercially, soaring to more than $860 million at the worldwide box office and becoming the highest earning biopic in history.
"Bohemian Rhapsody" is a biographical film that screened in 2018 about the British rock band Queen. The film depicts the life of the band's lead singer and legendary musician, Freddie Mercury. Mercury was born in Zanzibar to Indian parents. The family then moved to England, where Mercury formed the band with guitarist Brian May and drummer Roger Taylor.