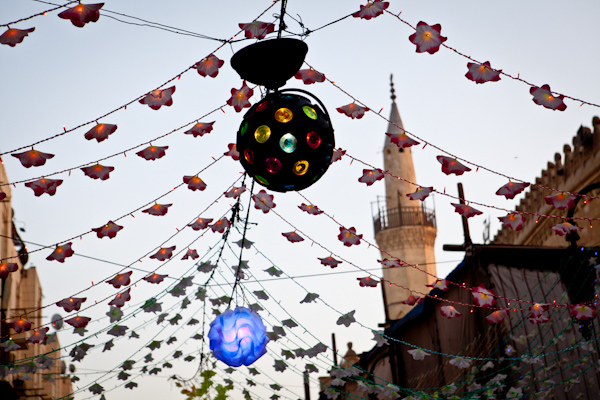 Within the Islamic holy month of Ramadan, feuds between the Egyptian Ministry of Religious Endowments (EMRE) and the Salafists, ultra-conservative Muslim groups, dominate Egypt's media outlets.
This year, disputes centered around two issues, one of them directly related to an Egyptian tradition held every Ramadan regarding street decorations.
Egypt's Salafis believe that bright decorations and billboards of TV actors placed in the streets during Ramadan are forbidden in Islam. Additionally, lanterns playing music and songs should also be prohibited.
Online websites affiliated to the Salafists published a fatwa, justifying the banning of street decorations and lanterns in Ramadan as they contain "prohibited music, songs and phrases". The websites explained that most of these decorations consume huge amounts of electricity, and that the extravagant funds spent on them are a waste of money.
The Salafists urged Egyptians to spend money paid towards Ramadan decorations to feed Muslims or donate to mosques and hospitals instead.  They noted that these traditions are not essential and that they feature distractions such as music which contradicts the purpose of Ramadan, a month dedicated to quiet reflection and worship.
In response to the Salafists, many preachers affiliated with Al-Azhar objected by releasing media statements; one of these scholars, Ahmed al-Maliki, criticized the Salafist's statements and described it as a form of "obscurantism" (hiding facts and spreading ignorance).
He stated that, "Ramadan decorations and lanterns are considered an expression of joy towards the holy month."
The second issue Salafists are provoked over regards the control of mosques. The EMRE has sought to tighten their control over Egypt's mosques within the past few years, particular in Alexandria, which serves as a stronghold for the Salafists.
The EMRE has prevented Salafists from delivering their Friday sermons unless they obtain permission from the ministry. The Salafists, for their part, seek to utilize the month of Ramadan to expand the circles of their supporters through the organization's sermons in mosques.
In a TV program aired on the privately-run channel Sada al-Balad, a feud took place between the spokesman for the Ministry of Religious Endowment, Jaber Taya and Salafi preacher Sameh Abdel Hamid.
Taya said that the ministry has decided to forbid non-moderate preachers from giving sermons in mosques, stressing that only Al-Azhar's moderate intellectuals are allowed.
He also pointed out during the TV interview that the EMRE will take legal action against violators of the ministry's decision. Salafist Hamid responded by calling the decision "irrational", stressing that "93% of the mosques in Egypt are not affiliated with the Ministry of Religious Endowment."