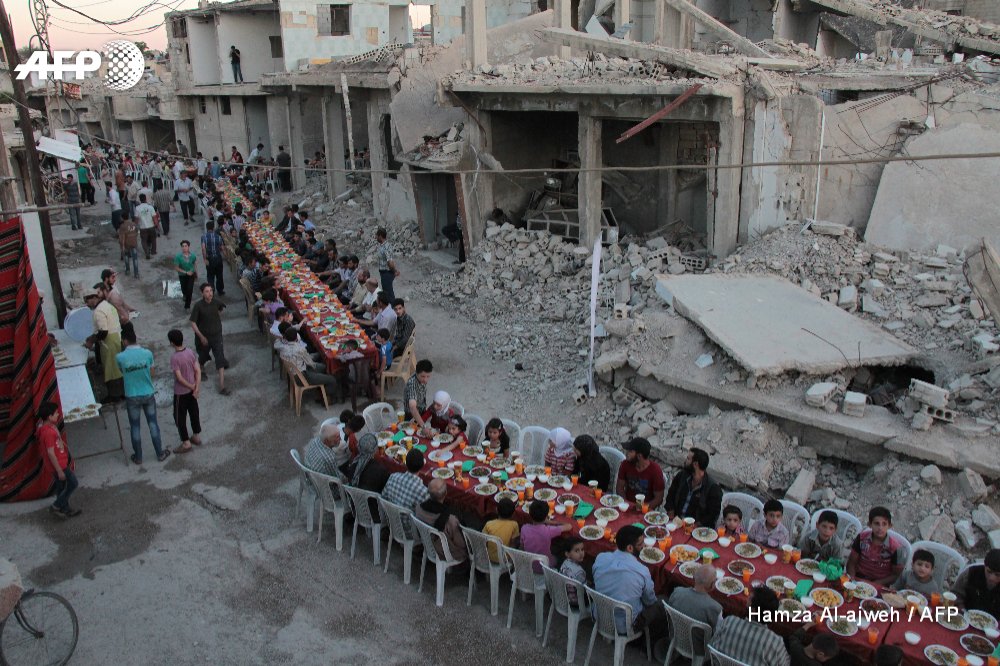 The scene in Syria's besieged rebel-held town of Douma is almost surreal — tables laden with food to break the Ramadan fast are surrounded by the crumbling carcasses of bombed-out buildings.
The open-air meals are a rare treat in the town in the Eastern Ghouta region outside Damascus, made possible only by the relative calm that has followed an international deal to reduce violence.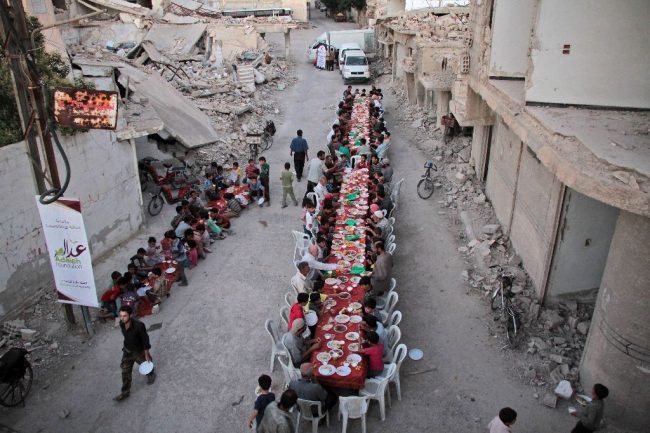 Open-air meals to break the Ramadan fast are a rare treat in rebel-held Douma outside Syria's capital (AFP Photo/Hamza Al-Ajweh)
In recent years, such communal "iftars" or fast-breaking meals have been organized rarely and always inside buildings that provided some protection from the constant threat of government bombardment.
But this Ramadan the meals are being held outside, on long tables covered in festive red cloth.
They are topped first with orange juice and dates ready for residents to break their day-long fast as soon as the sun sets and the call to prayer begins.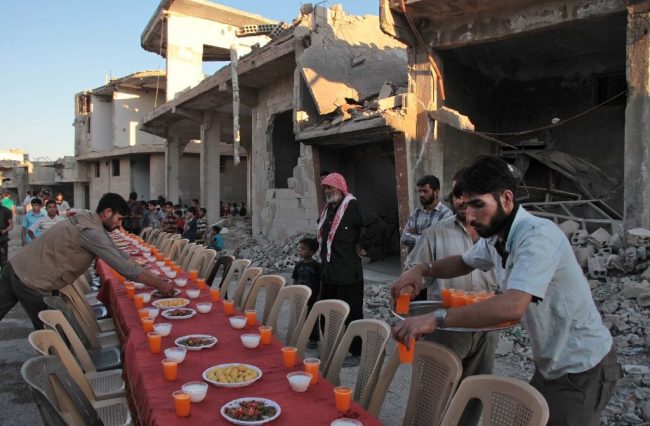 Main dishes quickly follow, filling the six tables that each seat around 40 people, with others in an overflow section on the street. Bowls of fava beans topped with tomato, olive oil and parsley, and platters of peas in tomato stew with rice arrive among the offerings.
There is also locally produced yoghurt, as well as bowls of fresh apricots.
"After six years of war in Syria and in Ghouta in particular, we wanted to take advantage of the relative calm to bring people happiness," said Muayyed Muhieddine, a spokesman for the local Adalah (Justice) NGO organizing the meals.
"We wanted to remind them of the time before the war, when the meals looked like marriage banquets," he told AFP.
Relative Calm
In May, regime backers Russia and Iran, and rebel supporter Turkey, signed a deal to set up "deescalation zones" in several parts of Syria after fighting that has killed over 320,000 people.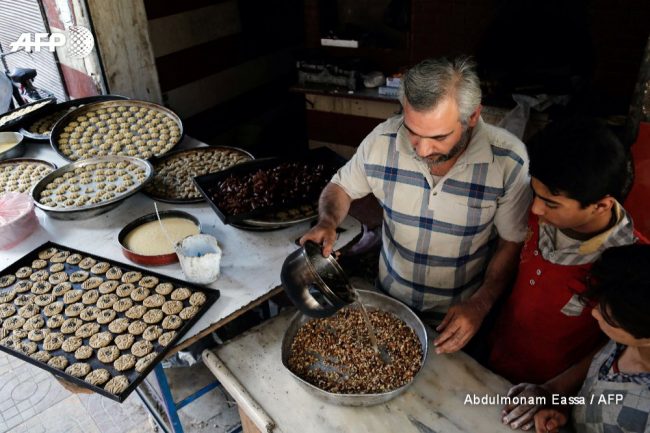 Though the zones have yet to be formally delineated and implemented, there has been a major reduction in violence in most of the areas included in the plan.
Among them is Douma, the largest city in the rebel-held Eastern Ghouta region outside Damascus and a regular target of heavy government bombardment.
The city has been under siege since 2013, though residents have been able to cultivate food locally and other items are smuggled in through tunnels and across checkpoints.
Adalah has held the communal iftars in recent years despite the siege and bombardment, but until now always inside, in mosques or underground, though even those locations have not always proved safe.
Last year, "we organized an iftar for 900 people in a mosque, but two mortars landed nearby," said Muhieddine.
This year, the relative calm encouraged the NGO to begin holding the meals outside, and so far it has organized six outdoor iftars.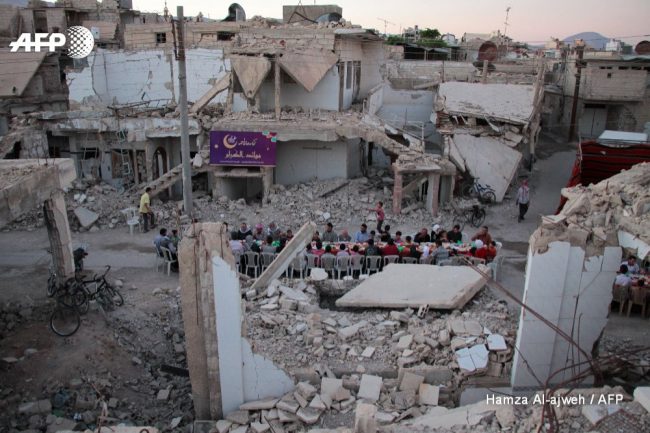 The meals are prepared in a makeshift street kitchen largely hidden from view by a swathe of red-and-green striped cloth hung around three sides of the cooking stations from a metal frame, like curtains.
The head cook ladles food onto plastic plates that volunteer servers ferry out to the waiting diners.
Reminder of 'the Old Days'
"These meals remind us of the old days," said Abu Hashim Minyasa, as he waited to break his fast. Whenever someone passes by, they ask us what is happening and think we're celebrating a wedding."
"These meals are not just for one or two families. They bring together all the people of the neighborhood and everyone sees each other and eats at one table." The diners are, however, virtually all men and boys, with a few young girls there with relatives.
Adalah says it also prepares meals for women, but they are delivered to them to eat in their homes. The NGO plans to organize four more such meals before Ramadan ends with the Eid holiday.
"We hope to organize these kinds of iftars in other towns in the Ghouta region," adds Muhieddine.
For residents, they provide a rare respite from the horrors of the country's six-year war, despite being set against the backdrop of the conflict's destruction.
"We feel safer, more relaxed with these meals, as though nothing had happened," said 29-year-old Marwan, despite the crumbling buildings around him. "May God prevent the bombing from ever returning."
Report by Hasan Mohammed – Agence France Presse