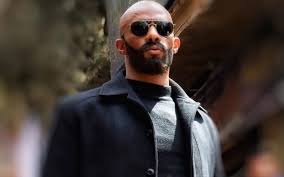 Dokki Misdemeanor Court jailed Egyptian actor Mohammed Ramadan on Wednesday for six months with a bail of LE 1,000 bail and a fine of LE 10,000 over charges of insulting General Director of MBC TV channels Mohammed Abdel Muttal.
Abdel Muttal's lawyer Ashraf Abdel Aziz said that Ramadan posted video on social media directing insults against Abdel Muttal.
Abdel Aziz asked for the imposition of punishments stipulated by articles No. 171, 188, 306, 307 and 308 in the penal code on Ramadan.
In November, Ramadan posted on Twitter after the prosecution detained his driver for four days pending investigations over charges of killing a Sudanese man and injuring three others in a two-car collision in Cairo.
Ramadan is often criticized over the violent content in his films and shows.
Edited translation from Al-Masry Al-Youm