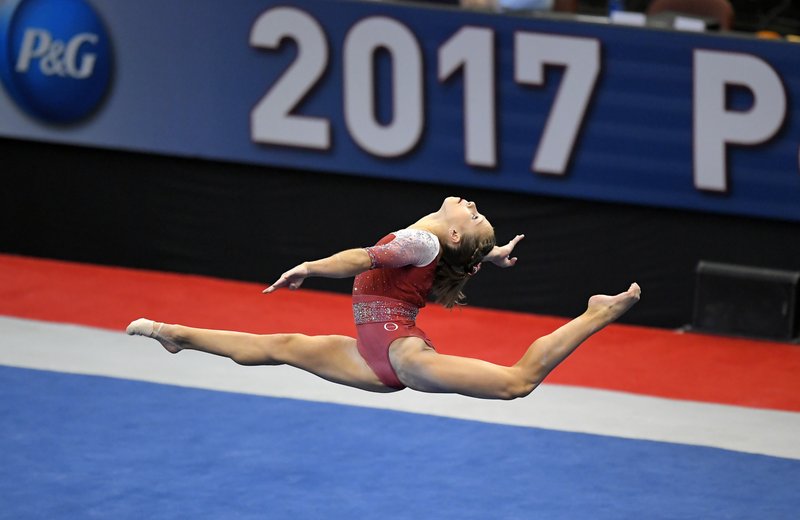 Ragan Smith admits it's a little weird to look at the scoreboard during a gymnastics meet and not see Simone Biles' name at the top.
"Nobody can beat Simone," Smith said of the Olympic champion. "She's unstoppable. She's amazing."
Biles is taking a break following her historic performance in Rio de Janeiro last summer, leaving the 17-year-old Smith as the standard bearer for a program in the midst of a transition. It's a role Smith insists she's ready for, and on the opening night of the US championships, Smith looked the part.
Sassy on floor, steady on beam and solid everywhere else, Smith posted an all-around score of 57.400 on Friday, more than a point clear of Riley McCusker. Some of the newer faces had some unsteady moments following the successes of the "Final Five."
Ashton Locklear, like Smith an alternate on the 2016 Olympic team, put together a typically precise routine on uneven bars but fell off the balance beam. Alyona Shchennikova, who won the US Classic last month, saw any legitimate chance at winning a national title evaporate when a nightmarish beam routine sent her tumbling to eighth. Morgan Hurd stepped out of bounds on her floor routine and shorted a landing to wind up sixth.
New national team coordinator Valeri Liukin, who mentored most of the women in the field while they were in the US developmental program, acknowledged it didn't exactly go smoothly. Yet he's hardly concerned. This is kind of how it's supposed to go.
"This is the first year after Olympic games and it's tough, historically always," Liukin said. "I'm just hoping it's not only for us."
Smith seemed at ease in the spotlight. Save for a couple of bobbles on beam — where she still posted the highest score of the night — she avoided the kind of missteps that were commonplace elsewhere.
For now, that's enough.
Smith captured the American Cup in March before a minor injury in the spring interrupted her training. No biggie. She was back in form in front an audience that included Biles, who told TV viewers she returned to the gym earlier this month, the first step in a potential comeback.
It will still be months, if not longer, before Biles will be competition ready, if it happens at all.
"No plans yet," Liukin said. "We (are) just hoping that she's coming back and she comes back as Simone Biles."
Either way, Liukin is confident the program remains on solid ground. Yes, this group doesn't exactly have the star power of the "Final Five" that brought home four golds, four silvers and a bronze in Brazil last summer. Then again, neither does anyone else.
"We're just starting, they're brand new," Liukin said. "We need time to build it."
While Locklear remains among the best on the world on uneven bars, she posted a 14.350 using a watered down routine that will include upgrades for the world championships this fall, Locklear faltered on beam, coming off in the middle of her routine and then taking a big step on her dismount.
McCusker, who won the Jesolo Cup in April, put together an elegant bars set that scored a 14.550 (the best of the night) and was nearly Smith's match on beam. Not bad considering she spent a considerable portion of the spring and early summer with casts on a foot and wrist.
McCusker wasn't cleared to do her full bars routine until three weeks ago. There she was on Friday night, making a pretty solid case that she should be in the mix for the four-woman world championship team when it's announced next month.
"I still have a watered-down vault, I still have a lot of stuff to add on beam," McCusker said. "But I'm starting to get used to being on the podium and more confident in what I can do."
Only McCusker, Jordan Chiles, whose Amanar vault earned a 15.150, the best on any apparatus, and Margzetta Frazier head into Sunday's finals within two points of Smith, who wasn't getting ahead of herself.
"It feels great, but I definitely can do better," Smith said. "I mean, I like being on the top, so it kind of feels good."