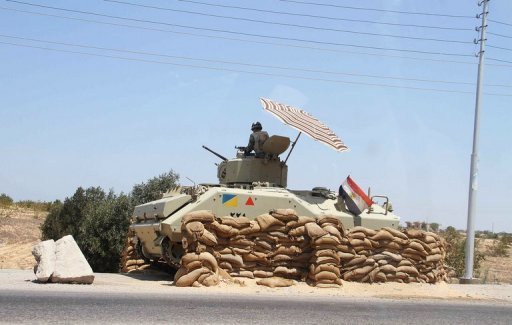 A suspect apprehended last week and allegedly involved in the 5 August Rafah border attack is being held for 15 days pending investigations after the National Security Agency's prosecutor accused him of premeditated murder and terrorism.
The National Security Prosecution has referred the case to military prosecutors and ordered that the defendant, Mahmoud Fawzy, be submitted to the Forensic Medical Authority for fingerprinting so that his prints can be compared to the ones from the scene of the attack.
Fawzy was arrested while participating in demonstrations condemning the "Innocence of Muslims" film in front of the US Embassy in Cairo last week, ​​after which authorities discovered he was wanted regarding the Rafah attack.
Judicial sources told Al-Masry Al-Youm that the defendant admitted to taking part in last week's attack on the American Embassy. He has not proven his whereabouts during the border attack in which 16 Egyptian security forces were killed last month, the same sources said.
State-run news agency MENA reported early Thursday, however, that investigations revealed that the defendant was not involved with the attack on the checkpoint in Rafah.
Fawzy is being interrogated, according to MENA, by the State Security Prosecution regarding another case on charges of joining an illegal group.
Another suspect, the head of a jihadi group's military wing who is wanted in connection with the Rafah attack, was allegedly attacked last week by a group of Bedouin men to avenge the killing of a local sheikh. Reports conflict over whether the man was killed, or just injured.