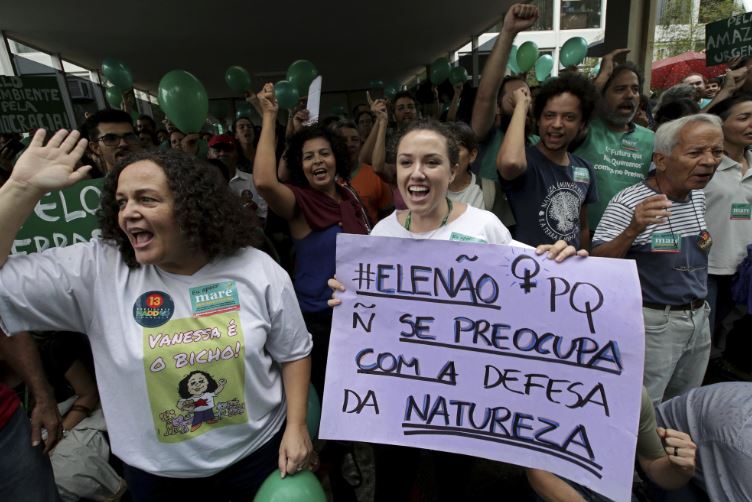 SAO PAULO (AP) — Brazil's President-elect Jair Bolsonaro has often expressed admiration for Donald Trump and appears poised to follow the US president in a radical overhaul of his nation's foreign policy — a move that experts warn could ultimately isolate and hurt Brazil.
Bolsonaro, who takes office Jan. 1, has promised to pull Latin America's largest nation out of the Paris climate accord, join the handful of countries that have moved their embassies in Israel from Tel Aviv to Jerusalem and take a hard line against President Nicolas Maduro in neighboring Venezuela.
The former army captain, who gained notoriety as a congressman for violence-laden language and offensive comments, has also frequently bashed China, Brazil's largest foreign investor.
The broad brushes of his plans have diplomats, political analysts and former government officials warning that such moves could isolate the regional powerhouse instead of opening new markets, which Bolsonaro has said he wants to do by enacting widespread privatization of state industries.
"If Bolsonaro does what he says, Brazil will quickly become a pariah in the global community," said Rubens Ricupero, a former finance and environment minister. "Brazil has 50,000 problems to solve. He wants to give us problems we don't have in exchange for nothing."
A deeply polarizing figure at home, Bolsonaro has also ruffled feathers abroad. He called refugees fleeing to Europe "human waste," raising eyebrows in African and Middle Eastern countries, and irritated China by visiting Taiwan, which Beijing considers to be a breakaway province.
And, like Trump, he has also said Brazil would scrap or try to renegotiate trade treaties, including the South American common market Mercosur.
Besides Bolsonaro's aggressive statements, analysts don't know exactly how he will operate. He has not said who he might name as foreign minister, and aside from his hyperbolic campaign rhetoric, his official platform was heavy on generalities but light on actual policy.
"The structure of the Foreign Ministry needs to be at the service of values that were always associated with the Brazilian people," it reads. "The other front is to foster foreign trade with countries that can add economic and technologic value to Brazil."
As a backbench congressman with a lackluster record over 27 years — only two of his proposals ever made it into law — Bolsonaro often asserted that Brazil's foreign policy was driven by the "leftist ideology of the Workers' Party", which governed from 2003 to 2016. He promised to remove political bias from his international platform by "not dealing with dictatorships," an apparent reference to leftist leaders like Maduro and Cuban President Raul Castro.
Leaving the Paris Agreement is the potential decision that will be most closely watched. Brazil agreed to reduce greenhouse gas emissions by 37 percent below 2005 levels by 2025. For that to happen, it needs to increase biofuels as a part of its energy infrastructure and sharply reduce deforestation.
Similar to Trump, who pulled the US out of the accord, Bolsonaro has said it's a bad deal for Brazil, home to the lion's share of the Amazon rainforest. In September, the then candidate said the agreement put "Brazil's sovereignty at stake" because to meet emissions and deforestation goals it would not be able to develop millions of acres of Amazon territory.
Days before Sunday's election, Bolsonaro back-peddled slightly, saying he would not pull the country out if Brazil's sovereignty was maintained — which could be interpreted in many ways.
Leaving the agreement would trigger widespread international condemnation and could also have financial consequences, including lost foreign investment and the blocking of a trade agreement Brazil is negotiating with the European Union.
Oliver Stuenkel, a professor of international relations at the Fundacao Getulio Vargas university in Sao Paulo, says Bolsonaro's decisions will reverberate in a way they don't necessarily for a leader like Trump.
"Picture German Chancellor Angela Merkel, who is a voice for moderation in the world. She has to meet Trump because the US is a big partner," he said. "Why would she meet Bolsonaro, a man who could cause her trouble simply for the things he has already said? Adding troubles will only make it worse."
Bolsonaro will also be starting his administration amid friction with China, which has invested billions of dollars in energy, infrastructure and oil projects in Brazil. During the campaign, he complained that "the Chinese are not buying in Brazil. They are buying Brazil itself."
In February, Bolsonaro, then a presidential candidate, joined a group of Brazilian lawmakers in a visit to Taiwan to meet local business and political leaders.
Soon after, Chinese President Xi Jingping's administration sent Bolsonaro a letter saying the tour caused "possible turbulence in the strategic partnership between Brazil and China."
Charles Tang, chairman of the Brazil-China chamber of commerce in Rio de Janeiro, said he believes Bolsonaro will moderate his positions once in office, and that the president-elect's attempts to forge closer ties to the Trump administration should not harm relations with China.
But Tang also warned that China could retaliate if the rhetoric is not softened. For example, Brazil is set to host a summit next year of the so-called BRICS nations, the emerging economies of Brazil, Russia, India, China and South Africa.
"Mr. Xi could decide not to come if he doesn't feel welcome," Tang said.
During the campaign, Bolsonaro frequently held up Venezuela as a cautionary tale of what the left-leaning policies of Workers Party candidate Fernando Haddad could bring, promising to take a hard line and "block communism," though he never detailed what he would actually do.
How that tough talk might translate into policy is not clear. Current President Michel Temer has already largely broken off relations with Venezuela, where millions have fled economic and political collapse in recent years. Tens of thousands have crossed into Brazil on its northern border.
Rubens Barbosa, a former Brazilian ambassador to Washington, believes that ultimately Bolsonaro will backtrack on his most radical foreign policy positions.
"In the case of recognizing Jerusalem as the Israeli capital, for example, it would be throwing away $6 billion per year in poultry sales to Arab countries," Barbosa said, noting that Brazil is one of the world's largest poultry and beef exporters.
"There will be people to advise him on the impacts and he will listen," he said.