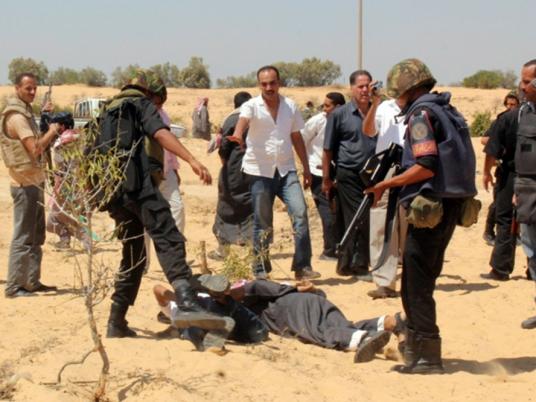 Extensive activity by radical groups has been detected in North Sinai as part of a military operation seeking to clear extremist havens in the region, a security source told Al-Masry Al-Youm Tuesday.
Authorities believe radical Islamist groups in Sinai were responsible for an attack on 5 August that killed 16 Egyptian officers in Rafah, North Sinai.
The security official, who asked not to be named, said the locations of the camps have been identified and the information obtained by security has been submitted to "political leadership." He said officials will increase the number of intelligence operatives in the area to help arrest armed suspects.
Al-Masry Al-Youm has also learned that a meeting is being scheduled between a presidential delegation and representatives of hardline groups in Sinai to discuss security issues.
On Monday, a military official told Al-Masry Al-Youm that talks between radicals and a presidential delegation had failed, and noted that military operations would proceed.
Meanwhile, a number of Rafah residents staged a sit-in outside the Defense Ministry and threatened to sue its officials if results of investigations into the attack are delayed. Rafah residents have complained of security raids in search of suspects without consideration for the community's conservative traditions.
Some observers had also questioned the feasibility of the military campaign and have repeated calls for development projects in the region, which long suffered negligence under former President Hosni Mubarak.
Defense Minister Abdel Fattah al-Sisi said Tuesday, during a visit to the Military Academy in Cairo, that the Armed Forces have been playing a major role in destroying militant hideouts in Sinai in association with police forces, and have taken precautions to avoid civilian casualties during operations.
Edited translation from Al-Masry Al-Youm