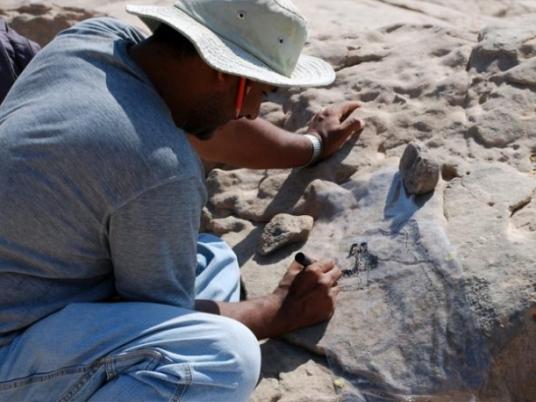 Most desert areas in Egypt are considered either uninhabitable wasteland, or vast quarries from which resources can be extracted. When engraved rocks from the Paleolithic era — petroglyphs — were discovered in 2005 in Wadi Abu Subeira, close to Aswan, surveys of the sites bearing incredible testimonies from 15,000 years ago or more were soon under stress from the surrounding quarrying works that skyrocketed in the area.
"The engraved rocks, which consist of hundreds of engraved cliff faces and large boulders, are at the surface, visible to everyone," explain two specialists, Per Storemyr and Dirk Huyges, in an email to Egypt Independent. Storemyr works in the field of archaeology and conservation services in Switzerland while Huyges is the curator of the "Prehistoric and Early Dynastic Egypt" exhibit of Brussels' Royal Museum of Art and History.
"What is truly exceptional about this find is that it constitutes the oldest graphic activity recorded so far in Egypt," they write. They also emphasize that "this prehistoric art is chronologically and aesthetically comparable to the great Paleolithic art traditions from Europe, such as the famous sites of Lascaux and Altamira caves."
The site of Qurta, 50 km north of Wadi Abu Subeira — which was found earlier — features the same type of rock that has been dated to the Pleistocene era — between approximately 15,000 and 19,000 years old.
The dating process utilized in Qurta is optically simulated luminescence, which is capable of dating the sediments covering the rock drawings. Engraved drawings representing mostly wild bovids (cloven-hoofed mammals) and aurochs (an extinct species of wild cattle) are present on both sites, but some cliffs in Wadi Abu Subeira are unique and feature representations such as a life-sized Nubian ibex and an African wild dog.
"It is a fact that the rock art at Wadi Abu Subeira and Qurta primarily shows animals that were also part of the diet of prehistoric men," explain the two specialists, who underline that the location of the rock art, high up on the sandstone cliffs, offers a "vast panoramic view of what must have been the Late Pleistocene hunting, fowling and fishing grounds."
They hypothesize that the higher location of the rock art, overlooking the fishing and hunting grounds, could have very well related to "hunting magic" practices, which would symbolically control the natural environment.
This fundamental heritage has been under threat for a few years, since quarrying companies started invading the area, cracking up the ground to extract iron ore or digging underground for clay.
Adel Kelany is an Egyptologist and the head of the ancient mines and quarries department at the Supreme Council of Antiquities. He is part of the team which discovered the petroglyphs of Wadi Abu Subeira in 2005.
And he is worried.
"There are two different types of quarrying going on in the vicinity of the sites: clay quarrying and iron ore quarrying," he explains. "Clay quarrying is not a major issue for two reasons: They quarry 50 meters underground, which does not harm the engraved rocks that are located higher than ground level, and also because clay quarrying is completely controlled by the [council], which issues permissions or denies them."
For iron ore mining, the concession rights are given to the companies by the Resources Authority, a body completely independent of the Supreme Council of Antiquities.
"So these companies can very well start concessions without even consulting us, which is the real danger, because they work on very large areas that can cover up to 4 square kilometers." warns Kelany.
Perhaps surprisingly, Kelany's "soft diplomatic" efforts — he wrote a letter to these companies explaining how valuable some sites are — have had some positive outcomes.
He mentions that some companies would lend his research team a car to survey the area of a propositioned excavation site for a few days, to check if valuable prehistoric rocks could potentially exist in the zone.
"Three days to survey a vast area like this is not enough, but I don't dare ask permission to use their car for a longer period of time, that's just not okay," he explains.