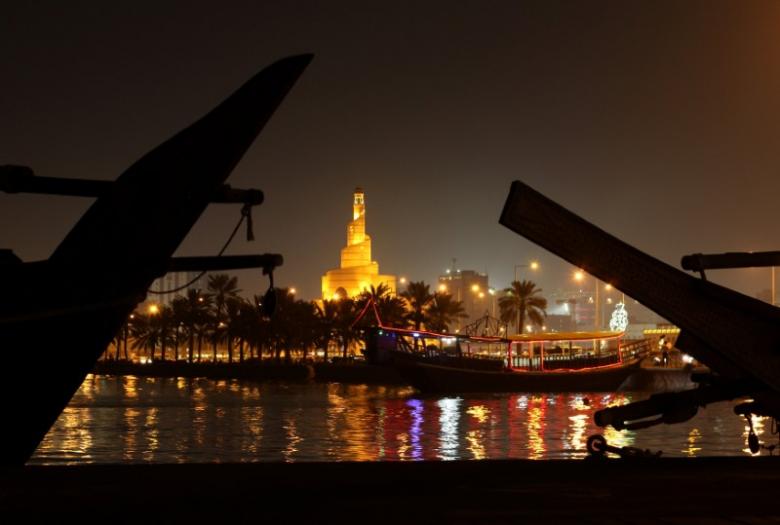 Qatar's Foreign Minister Sheikh Mohammed bin Abdulrahman Al Thani accused Saudi Arabia of undermining regional peace in an interview with DW on Tuesday. Speaking in Berlin as he helped launch a Qatari cultural center, Al Thani said the Saudis were "just trying to gain sympathy with the West."
Since July, a diplomatic crisis that has pitted Doha against Riyadh has seen Qatar isolated from its neighbors, prompting shortages of essential goods and making travel in and out of the small Gulf emirate difficult.
Relations between the two Middle Eastern powerbrokers goes back to at least the 2011 Arab Spring, with Qatar tacitly supporting the popular uprisings and Saudi Arabia opposing them. Saudi Arabia is also uneasy over Qatar's friendly relations with rival Iran, as the various nations vie for supremacy in the power vacuum left by the recent conflict in the region.
Al Thani dismissed Saudi Arabia's claim that it had severed diplomatic ties with his country over security concerns, which included accusing Doha of supporting terrorism.
"Qatar is an active player in the war against terrorism. Actually, we were one of the founding members of the global coalition [against 'Islamic State']," he said. "It's just a smoke screen to justify the blockade against Qatar."
The top diplomat then accused Saudi Arabia and the United Arab Emirates of refusing to come to the negotiating table. "We want to understand their concerns," he said, but added that they had refused to communicate.
According to Al Thani, this means that their security concerns must be patently false — because if they were really worried about safety, they would have tried to solve the problem.
'Destabilizing the entire region'
"They are calling it a small and minor issue, but it's destabilizing the entire region," he said.
Al Thani told DW how the blockade was adversely affecting the citizens of Qatar: students were being expelled from universities, families were being separated and basic necessities like food and medicine were now hard to come by for normal people.
"More than 26,000 human rights violations conducted by Saudi Arabia, UAE and Bahrain," he said.
As to whether or not his tough stance was preventing a diplomatic solution, Al Thani had a quick answer: "We are ready to engage in serious dialogue."
But the other regional powers, according to the Qatari foreign minister, are unwilling to do so.