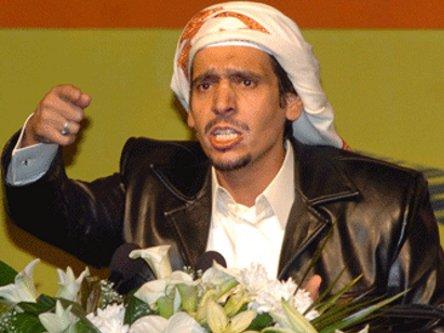 Renowned Qatari poet Mohamed Bin al-Dheeb al-Ajami was sentenced by the Qatari State Security Court to life in prison on Thursday.
The verdict, which is currently being appealed by lawyer Naguib al-Naimi, comes after 37-year old Ajami was detained in November 2011 on charges of insulting the symbols of the state and inciting to overthrow the ruling regime.
The charges are believed to be based on two of Ajami's poems. The first is seen as insulting the Qatari Prince Sheikh Hamad bin Khalifa al-Thani, while the second, titled "Jasmine Poem," supports the Tunisian uprising and criticizes Arab governments.
Naimi is appealing the verdict while Human Rights Watch, as well as other rights groups, is challenging the case with the Public Prosecutor's office.
Several media figures, poets, and writers have also sent an appeal to the Qatari Prince calling for Ajami's release and demanding that he be compensated for the year he has already spent in prison.
Edited translation from Al-Masry Al-Youm