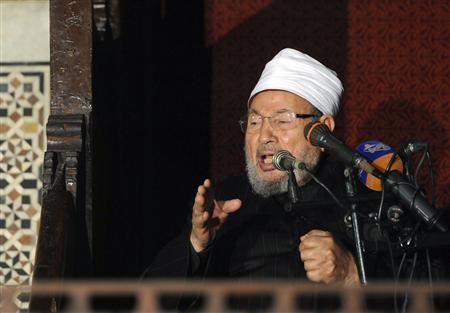 Head of the International Union of Muslim Scholars and pro-Muslim Brotherhood figure, Yusuf al-Qaradawi, denied transferring his place of residence from Doha to Tunisia or to any other capital, according to the Qatari newspaper Al-Sharq.
Press reports said Qaradawi would move to Tunisia upon a new agreement between Gulf countries and Qatar that was signed on Thursday in Riyadh.
The agreement reportedly included the deportation of Muslim Brotherhood figures from Qatar and stopping Qatari media from attacking the Kingdom of Saudi Arabia, UAE, Bahrain and Egypt rulers.
"I have been delivering sermons, lecturing, issuing fatwas, studying, preaching, writing and expressing the position of Islam as I believe freely in Qatar for over 53 years," Qaradawi said. "No one has told me: Say this, do not say this or why have you said this?" he added.
Qaradawi was a strong supporter of toppled President Mohamed Morsy following the 2011 revolution but fled to Qatar when Morsy was ousted from power. The Egyptian government has since attempted to repatriate Qaradawi from Qatar in order to put him on trial for his alleged connections to a mass jailbreak during the 2011 revolution. Qaradawi has continued to voice his support for the Muslim Brotherhood from Qatar.
Edited translation from Al-Masry Al-Youm