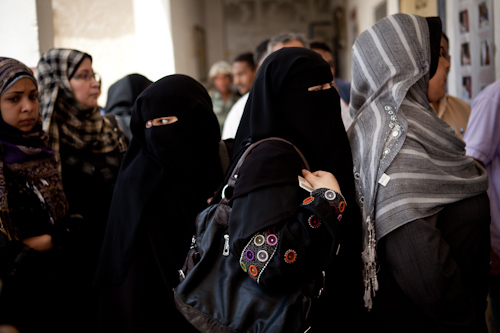 Teachers at the Education Ministry's department in Qalyubiya are uneasy after receiving a letter that requests teachers to inform the security department about which teachers have an Islamic beard or wear the Niqab.
Teachers in the province were rattled as the letter was surrounded with rumors that teachers who are discovered to be involved with Islamist groups will be transferred to administrative duties away from teaching.
A copy of the letter, obtained by Al-Masry Al-Youm, told school headmasters that a list of teachers wearing the niqab and with an Islamic beard should be submitted to the security office of the education department. It warned that those who fail to abide by the directive with be subject to "legal accountability".
A number of teachers being targeted by the letter accused the state of seeking to move them away from their work, stressing they don't have links with Islamist groups and are not involved in political activity.
Olfat Abdel Rahim, head of the Education Ministry department in Qalyubiya, said the measure is conducted annually. "It is a statistical procedure to detect shortages or excesses in the number of teachers."
Mohamed Mahmoud, the head of the department's security division, denied that the measure was targeting to transfer teachers. "It is a normal count designed to update the department's database."
Mahmoud, however, admitted that a number of teachers were, indeed, subject to transfers. "A number of teachers were already transferred to administrative work in Giza, Sharqiya and Qalyubiya after their affiliation with extremist groups was verified," he said. "The ministry will not allow teachers to tamper with students minds or expose them to extremist thought."
Since the ouster of the Muslim Brotherhood government in 2013 and the categorization of the group as a terrorist organization, Egypt has embarked on measures to combat what it describes as extremist incitement against the government, including a ban on unlicensed preachers from delivering sermons at mosques. Educational authorities have also sought to ban Brotherhood-affiliated books that contain extremist content.
Edited translation from Al-Masry Al-Youm