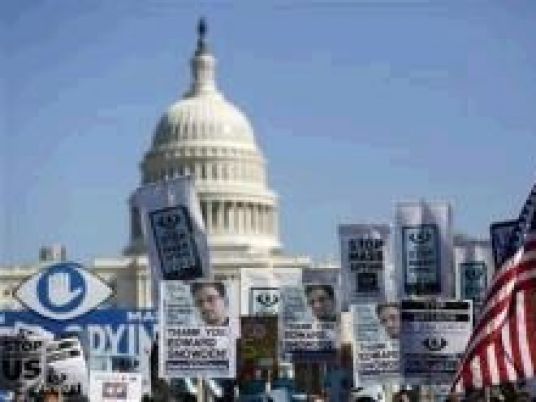 "If I have to choose between being imprisoned and preserving the syndicate's entity, my colleagues and I would choose being detained," said the Journalists Syndicate chief Yehia Qallash on Wednesday, during the journalists' general assembly meeting.
Dozens of journalists who attended the meeting expressed their support to Qallash and their colleagues, chanting: "Long live freedom of journalism, long live the unity of journalists!"
An Egyptian court sentenced the head of a journalists union and two board members to two years in prison on Saturday for harboring colleagues wanted by the law and spreading false news.
"If I have to sacrifice my freedom for the syndicate's entity, I welcome this because it would be a cheap sacrifice. But you have to protect this entity because it has been targeted," he added.
"As if the syndicate has no right to defend journalists and their rights; and as if the Journalists Syndicate chief has to hand over a journalist who comes to his own syndicate [for protection, ed.]," Qallash exclaimed.
This is our real role, "To Protect", Qallash said, adding: "However, we can't be involved in a confrontation with the regime as the syndicate belongs to the civil society institutions.. and any person who wants a bone-crushing battle between the syndicate and authorities seeks to put the entity in crisis."
In a related context, Secretary General of the Journalists Syndicate Gamal Abdel Rehim said during a phone-in last night to the TV talk show 'B-Tawqeet Masr': "the syndicate's chief and board members are not accused in bribery or drugs possession cases", commenting on President Abdel Fattah al-Sisi's statement.
Sisi said Tuesday that the chief of the Journalists Syndicate Yehya Qallash is being tried for criminal charges, not for freedom of speech.
Sisi's comment on Qallash and the syndicate's board members Khaled Al-Balshy and Gamal Abdel Rahem came during an interview with the Portuguese TV channel RTP.
"Journalists Mahmoud Al-Sakka and Amr Badr were charged of circulating false news on social media, which was a publishing case," Abdel Rahim added, explaining that the day of the incident, the two journalists had entered the syndicate and the syndicate has no right to prevent any of its members from accessing it.
Edited translation from Al-Masry Al-Youm