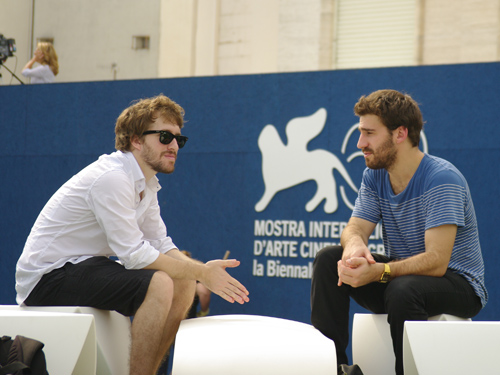 VENICE — A hefty psychological drama that follows five friends getting lost in a forest, and slowly reveals a more complicated web of issues that overshadows the physical entrapment, "Leones" is the first film by visual artist and filmmaker Jazmin Lopez. The film was screened on Tuesday as part of the Orizzonti section in the 69th Venice International Film Festival.
"Leones" comes with an impressive co-production bill — especially for a first-time director — that includes The National Institute of Cinema and Audiovisual Arts in Spain, Torino Film Lab, Arte/Cofinova 6, Hubert Bals Fund from the Netherlands, CineMart, Binger FilmLab, BAL, Paris Project and TyPA.
Egypt Independent talked to the producers of the film: Benjamin Domenech and Santiago Gallelli, both in their mid-twenties.
Egypt Independent: Tell us about how you got involved in "Leones"
Benjamin Domenech: We originally knew Lopez, the writer-director, from the film school where the three of us studied. We were friends already so it was natural to start working together…It was one of the first films we started developing through the production company we co-founded, REI CINE. We started developing the script in film labs in Argentina, and these were already affiliated with other labs abroad, which got us quickly on the track of international funds. We received the Hubert Bals Fund, and then Lopez took part of the Binger FilmLab, and that was when Torino Film Lab kicked in as well. At the end of this phase we came back to Argentina and started raising production funds there.
EI: This sounds like the reverse way of how raising film funds usually goes; is that how it works in Argentina?
Santiago Gallelli: No, in Argentina you also get the local funding first, and then you start targeting international co-production deals.
Domenech: "Leones" went through a very atypical way of funding, especially being a first-time director project, and with such a particular film coming from art-house background. The project was invited to do a framework program to Torino Film Lab, which started with Lopez doing script sessions, and then I joined in. I think it was very fruitful, as it allowed us to get a lot of international feedback not only creatively but also in terms of marketing, and financing strategies.
I think it was very brave on TFL's behalf, as these kinds of funds prefer to come in at a later stage of the production, to be sure that the film they support is getting made. It was a risky and generous decision to support the film so early in the process, and with such a big stamp of support, all the following steps became easier.
EI: How did you manage to land the co-production deals without local funding?
Domenech: I think there has been a general interest lately in projects that blend visual arts and film…Apitchatpong Weerasethakul's "Uncle Booneme" for example was developed around a project of video installations. The idea is to reinvent the understanding of film as a wholesome project, which is broad enough to include series of cultural products that explore the same themes and topics.
The participation in international development programs helped us a lot; the script won the Arte Award through our participation in the Buenos Aires Lab, so it had already sprung interest for French financiers. The same thing happened with the Dutch funding once when we got the Hubert Bals Fund [support].
EI: You mentioned Weerasethakul, and "Leones," much like in his films, dwells on the concept of the "forest" and the metaphysical nature of it. How did that work from a production view point?
Gallelli: Locations were very important for Lopez's story, so it was a long process of scouting trying to find the exact right places. We ended up with places that are perfect for the film, but not necessarily perfect from the production viewpoint. We adapted because the spaces in which the film was taking place were characters in themselves; the forest acts as a spirit in the film and has its way of interacting and leading or misleading the characters.
Domenech: And like a character, there are several scenes showing how the forest shifts and interacts dynamically in the film. Death is a pivotal theme in the film, and it is nature that sucks your body when you die and that body becomes nature as well, and in that sense the film tries to portray the process of life and death.
EI: There are a few complicated camera maneuvers in the portrayal of these themes of nature and time passing. How did you go about these shots?
Gallelli: We built a tiny robot that is basically a timed motor with a tripod; it makes a 360-degrees spin in an hour and a half, so we set it to shoot one frame per second for the slow tracking time-lapse shots. The hard part was merging these shots with the previous and the following ones to make it look like a continuous shot.
Domenech: Also we worked with Matias Mesa, who is an Argentinian director of photography, but also a very good steady camera operator. He performed the steady camera shots in almost all of Gus Van Sant's films. So he was very helpful, especially that the way we worked sometimes was all about getting the right shot even if it takes a whole day of rehearsal.