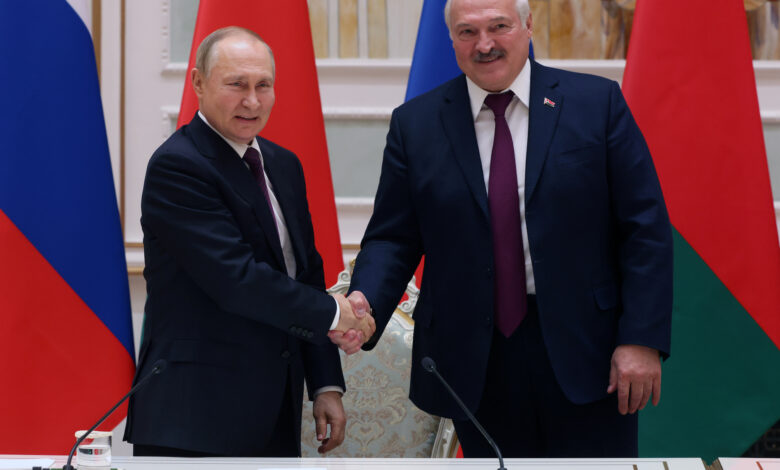 Russian President Vladimir Putin said Monday the Russian military is currently conducting military exercises on the territory of Belarus as part of efforts to protect "the safety of our countries."
Speaking alongside Belarus President Alexander Lukashenko in Minsk, Putin said Russia and Belarus will continue to cooperate closely in the military sphere, and exchange and develop military equipment and weapons.
Putin said "such measures are necessary" because of the tense situation "on the outer borders of the Union state [of Russia and Belarus]."
However, the two leaders' avoided mentioning Ukraine in their public statements.
In brief remarks, Putin said that Belarus was Russia's closest ally. He expected trade between the two countries to reach a record this year, at the equivalent of $40 billion.
Lukashenko said that despite "some rough edges" Belarus and Russia, find answers to all threats; and expressed the hope that the West will "listen to the voice of reason" so a dialogue on security could resume.
Belarus' role in the conflict: Russian forces are based in Belarus and used its territory in the initial invasion of Ukraine in February. But Lukashenko has gone to some lengths to ensure that Belarus troops do not become involved in Russia's "special military operation."
Russia also has strike aircraft based in Belarus.
Lukashenko also mentioned economic relations, saying that: "Thanks to joint work, Russia and Belarus managed to overcome the possible negative consequences of sanctions pressure."