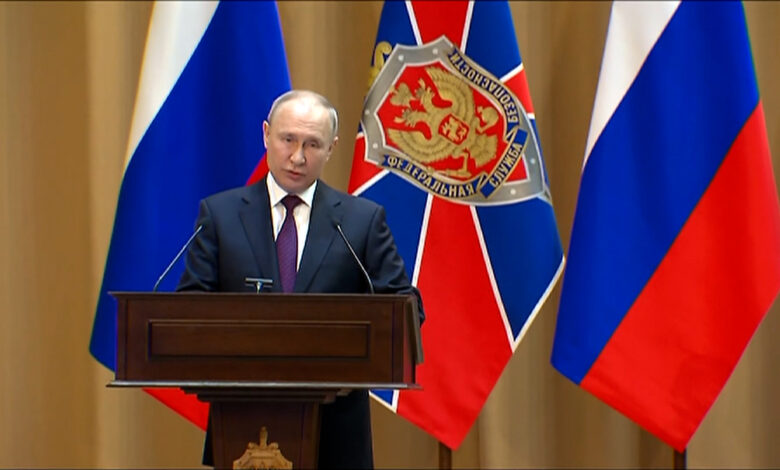 Russian President Vladimir Putin admitted to "losses in our ranks" while thanking members of the Federal Security Service (FSB) for fighting extremism inside the country, as well as working in claimed Russian-occupied territories.
"Unfortunately, there are losses in our ranks," he said at the start of an FSB meeting. "The leadership of the FSB must do everything to provide additional support to the families of our fallen comrades."
Putin said that "2022 was a special year for the whole country and for your service."
"The FSB units were directly involved in the special military operation, they were solving complex, non-standard operational tasks here, covering the state border, actively fighting terrorism, organized crime, corruption, and extremism," he claimed.
Putin's "special military operation" is the euphemism the Russian president and leadership uses to describe the full-scale invasion of Ukraine.
"I would like to thank the management and all employees of the department, especially those who acted at the forefront, in the liberated territories, in the frontline zone and, I would add, behind enemy lines. I want to thank you for this work, dear comrades," he said.
In November 2022, US Joint Chiefs Chair Gen. Mark Milley said Russia has likely suffered more than 100,000 killed and wounded soldiers as a result of the war in Ukraine, and Ukraine is probably looking at similar numbers.