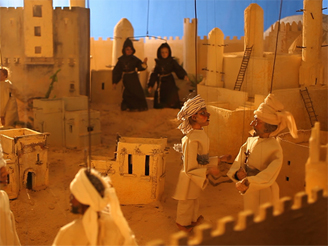 One of Egypt's most celebrated contemporary artists, Wael Shawky, makes work of a grand and complicated scale. His recent half-hour long film "Cabaret Crusade: The Horror File" is the first installment in what he plans will be a four-part video narrative of the Crusades, starring marionettes.
It was recently exhibited at the 12th Istanbul Biennale alongside large-scale, glossy photographs of the marionettes that raise them to the status of movie stars, and drawn and sculptural elements built out of the film's visual language. Shawky has said that in his work he seeks to create a "hybridized society," and he often presents familiar historical events, with altered rules and jarring pairings, employing child actors – or in this case puppets – to generate questions about contemporary social and cultural issues through contrasts.
The artist has of late been showered with grants and awards, most notably the Abraaj Capital Art Prize, a Dubai-based prize through which artists receive funding for proposed projects to be exhibited at Art Dubai in March. Shawky was not at liberty to discuss from Marseille his plans for the Abraaj Capital exhibition. Yet, he spoke to us his current projects, including the next installment of "Cabaret Crusade."
Egypt Independent: You have a number of ongoing projects, and have received a few grants recently. What are you working on right now?
Wael Shawky: I am working on a project here, in Marseille, which will be part of the celebration of Marseille as the European capital of culture in 2013. My film project "Cabaret Crusades," is being produced with the Brussels Festival, and Capital Marseille has become a co-producer on this project.
Egypt Independent: Can you talk about how you are putting it together?
Shawky: "Cabaret Crusades" is a series of four films. I am working on the second, "Cabaret Crusade: The Path to Cairo." Each film has a completely different style, a different set of marionettes. The second film concerns the 49 years between the first Crusades and the second Crusades.
The project is based on a non-fiction book by [Lebanese novelist] Amin Maalouf, "The Crusades through Arab Eyes." It features stories that display the relationship between not just the West and the East, but Shia and Sunni, Muslims and Christians, and different cities. It is very interesting, and it shows the sources for problems happening today. Also, Maalouf uses all of these Arab historians and sources. Part of this project is analysis of how we write history.
Egypt Independent: Are you working directly with Maalouf on the project?
Shawky: He knows about the project, and we are trying to set up a conversation. But the project is not only based on Maalouf. I am also doing my own research. I think I will end the last film when Salah Eddin enters Jerusalem because I like the idea that from an Arab point of view, this story ends with a glorious moment. It is not really true, because afterwards the Crusades took Jerusalem back.
Egypt Independent: You work primarily in video, and have made a few narrative films. But this seems more cinematic. Is it your first long narrative film project?
Shawky: Yes, I think it is. In my "Telematch Series" project, some films are very large scale, but they are not cinematic.
The series was based on a German program called Telematch that was very famous in the 1970s. It is a competition between two German cities. Contestants dress in costumes, run in the mud, and collect points. They use clichéd medieval European styles, like castles, forts, and knights. But also, the idea here is that Telematch is based on creating a fake competition to entertain a third person. I try to use the same method – to create an event, for the art-viewing audience.
Egypt Independent: It seems an element of absurdity is important in the series.
Shawky: Well, yes, but it is more about the creation of the fake event. Usually I work with kids, and kids do not know exactly what I want to do, but they do what I tell them. They usually create new methods that I did not really think of. Sometimes a sort of new society starts to appear. For example, in "Telematch Suburb," when I set up a heavy metal concert in a village, you find that some people from the village decided to be the guards. They were dominant people and took that upon themselves. All of these very subtle things happen.
Egypt Independent: What projects have come out of your residency at the Serpentine Gallery?
Shawky: I only stayed for two weeks. The project I will do is based on the relationship between the Serpentine Gallery as a powerful art institution in London and their vision of the Edgware Road community. Serpentine Gallery invites artists to work with Edgware Road. I decided to make the project about how the Serpentine thinks of Edgware Road, a video based on interviewing people who work there.