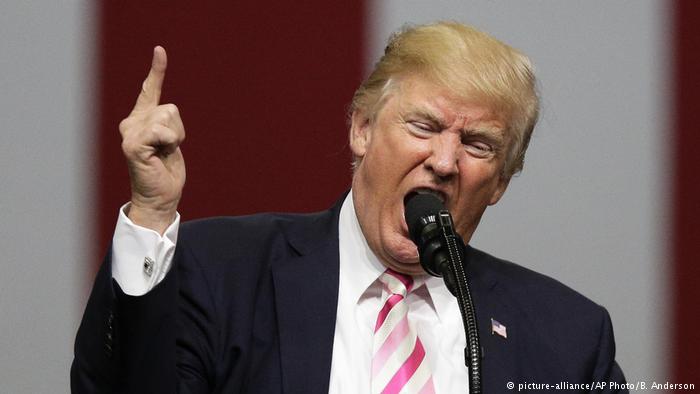 US President Donald Trump took to Twitter on Saturday to laud his government's "amazing job" after Hurricane Maria and continued to jeer at Puerto Ricans who have called for more efficient federal relief from the damage caused by the most powerful storm to strike the territory in nearly 90 years.
Trump also lashed out at comments made by San Juan Mayor Carmen Yulin Cruz at a press conference on Friday. "We are dying, and you are killing us with inefficiency," said Cruz, who is living in a shelter after her own home was destroyed. "I am begging, begging anyone that can hear us, to save us from dying."
The president interrupted his weekend at his eponymous New Jersey golf club to tweet: "They want everything to be done for them when it should be a community effort."
In response, Cruz wrote that people need help. "The goal is one: saving lives," she wrote on Twitter on Saturday. "This is the time to show our 'true colors.' We cannot be distracted by anything else."
"Such poor leadership ability by the Mayor of San Juan, and others in Puerto Rico, who are not able to get their workers to help," Trump wrote in a series of tweets from his golf club in New Jersey. "They want everything to be done for them when it should be a community effort."
A photograph of Cruz chest-deep in water as she used a bullhorn to call out to victims was all over social media, juxtaposed with images of Trump hitting golf balls.
For her part, the mayor tweeted back photos of herself talking with rescue workers, wading through floodwaters and comforting an elderly woman.
Republican Nydia Velazquez, a New York Democrat who was born in Puerto Rico, said last this week that she was "offended and insulted" by Trump's tweet.
The president is slated to visit the island on Tuesday. On Friday, Trump pledged to help Puerto Ricans in the recovery, saying the island "is totally unable" to handle the catastrophe and adding that things are going "as you know, really well."
'We are dying'
Trump has been criticized for being slow to react to pleas for support from Puerto Rico, but quick to respond to criticism that he has given the island less attention than he gave to Texas and Louisiana after Hurricane Harvey and Florida, where he keeps a weekend home, after Irma. After going days without mentioning Puerto Rico following Maria, however, administration officials have attempted to play catchup, holding numerous press conferences to describe their relief efforts; Trump now manages to get in a mention of Puerto Rico at nearly every public event.
"Ultimately the government of Puerto Rico will have to work with us to determine how this massive rebuilding effort … will be funded and organized, and what we will do with the tremendous amount of existing debt already on the island," Trump said on Friday.
Though more than 1 million Puerto Ricans have now received water and food rations, telecommunications have only been restored to 30 percent of the island. Nearly half of the supermarkets have reopened, albeit with reduced hours, and about 60 percent of the gas stations have begun pumping, many protected by armed private security guards.
That leaves tens of thousands of people without access to necessities, most urgently water, long after the September 20 hurricane. Most of Puerto Rico's 3.4 million residents are entering their 11th day without power, and 16 deaths have been reported so far.