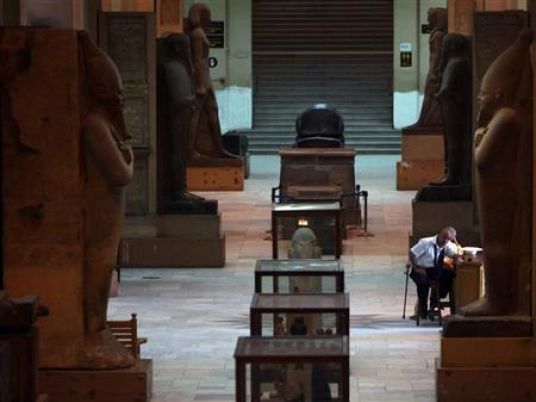 In celebration of new Suez Canal waterway inauguration, Mamdouh al-Damaty, Antiquities Minister, announced that all museums across the governorates will be open for free entry to Egyptians only, starting from Tuesday August 4 until the end of this month.
The Antiquities Ministry is following in the footsteps of other miniseries.
Transportation Minister Hany Dahy said that public buses and railway services — second class only — will be for free Thursday August 6, marking the inauguration day of the new Suez Canal.
Citizens are also allowed to use Metro services in the governorates of Cairo and Giza from 4 pm to 8 pm during the inauguration event. Additionally, public gardens will open their doors to the public for free.
"The government is gearing up to make all Egyptians share the happiness of a turning point event in Egypt's history, that is equally important to 6th of October War 1973 and building the High Dam," Ahmed Abdel-Hady, spokesman for Egyptian Company for Metro Management and Operation (ECMMO) told Al-Masry Al-Youm.
Besides celebrating the opening, Moushira Moussa, spokesperson of Antiquities Ministry told Egypt Independent, "It is an attempt to encourage Egyptians to explore and enjoy the country's monuments as well as to know more about their history."
Moussa also added that Egyptian Museum's ticket entry costs LE10 per person, which could pose a financial burden on an underprivileged family in Egypt. "Accordingly, it is an awareness-raising approach toward Egypt's heritage while giving the opportunity to different segments of society, especially the poor, who cannot afford to pay for the sightseeing," she explained.
According to economic daily Al-Mal, revenues for the antiquities sector dropped during fiscal year 2013-2014 by 66 percent to LE124.6 million, down from LE366 million in 2012-2013.
The number of museums surged by 11.5 percent to 58 in 2013, up from 52 in 2012, with many resuming activities following renovations, according to a report released in May by the Central Agency for Public Mobilization and Statistics.
Museum visitors soared by 4.3 percent to 3.8 million in 2013, up from 3.4 million in 2012, according to CAPMAS.
Museums revenues declined by 37.2 percent to LE65,300 in 2013, down from LE104,100 in 2012, with Egyptian visitors surging against a drop in foreign visitors. However, the price gap of the ticket entry between Egyptians and foreigners for museums and seightseeings is one of the attributes behind the drop in the revenues. .