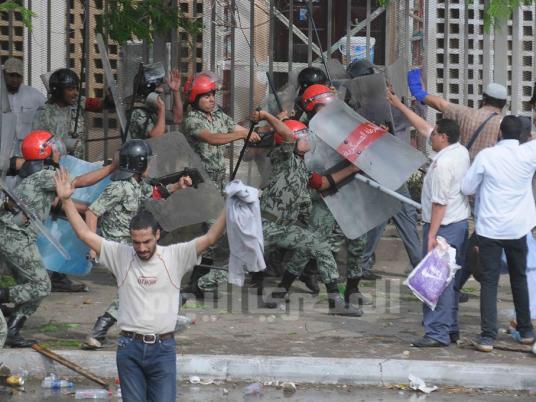 Public Prosecutor Abdel Meguid Mahmoud on Monday issued pardons for some detainees from the revolution and the transitional period, pursuant to President Mohamed Morsy's decree.
The pardons included those held in connection with the events outside the Cabinet building, on Mohamed Mahmoud Street and in Abbasseya Square, but excluded those who allegedly participated in setting fire to the Institut d'Egypte and the Tax Authority building, as well as people accused of committing robberies and vandalism, possessing drugs or destroying state property.
Mahmoud also mandated his office to examine complaints and requests from convicts and suspects who have not been included in the list as to whether the pardon could be applied to them.
An Interior Ministry source told Al-Masry Al-Youm that it would release all those included in the decision once it received the public prosecutor's list, adding that there are few revolutionary detainees still in prison.
Morsy issued a mass pardon for all those accused or found guilty of crimes pertaining to the events of the 25 January revolution — with some exceptions — on 8 October.
The decision to issue general amnesty was based on the recommendation of Morsy's military trial review committee. However, the amnesty only applies to those who were charged in between 25 January 2011 and 30 June 2012, when Morsy took office.
In a speech given before thousands in Tahrir Square on 29 June, Morsy promised to fight for the release of all civilian detainees in military prisons. He shortly thereafter issued a decree to form a panel to review the cases of those detainees.
Since then, that presidential committee has released hundreds of detainees convicted in both military and civilian courts in several waves of pardons.
Activists have said that despite these mass pardons, Morsy has done little to stop the brutality of the military police. They demand the release of all civilians convicted in military trials since January 2011, without exception.
Edited translation from Al-Masry Al-Youm