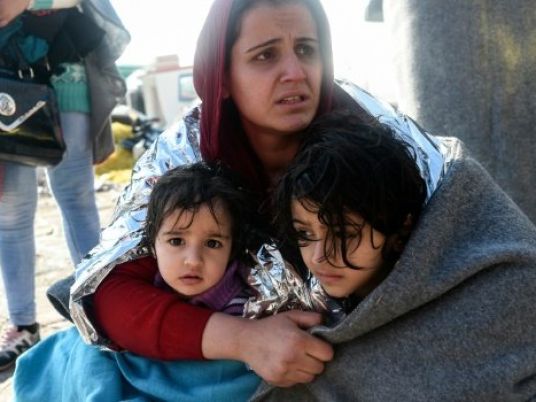 Europe's migrant crisis is forcing the advancement of new psychological therapies that go beyond existing treatments to help victims not of one traumatic event, but of multiple traumas such as rape, war and torture.
Among the hundreds of thousands of people fleeing Syria, Afghanistan and other war-torn areas, significant numbers are likely to have severe psychiatric illnesses, including complex Post-Traumatic Stress Disorder (PTSD), according to studies in peer-reviewed scientific journals.
PTSD plagues sufferers with flashbacks and panic attacks, and can render them sleepless, emotionally volatile and less likely to be able to settle into a new home.
Deploying mainstream therapies designed for victims of single-event trauma in stable, well-funded settings — such as returning soldiers or car crash survivors — will not tackle this migrant mental health crisis effectively, specialists say.
So therapists in Europe are honing their skills in relatively new, refugee-focused psychological techniques such as Narrative Exposure Therapy and Intercultural Psychotherapy.
Italian psychotherapist Aurelia Barbieri is one of a handful of volunteer mental health experts on Europe's front line.
Working with charity Medecins Sans Frontieres (MSF) in makeshift arrival camps in Sicily, she gives what she calls "psychological first aid" to migrants arriving after months or years making their escape through the desert, through Libya, across the sea.
"They often say they have been imprisoned, beaten all day long, shot at, or scalded with boiling water. They've been treated like beasts," she said in a telephone interview.
Terrifying flashbacks
Almost half of 23 refugees assessed by doctors in Dresden, Germany met the diagnosis for PTSD, according to research published in the Nature journal Molecular Psychiatry in November.
In Sicily's Ragusa province, MSF says screening showed almost 40 percent of those suffering mental health effects had PTSD. "They have terrifying flashbacks. They think they're going mad," said Barbieri. "What I hope to do is first of all is listen. When they can feel they're in a protected place, they can start talking about their trauma."
Some refugees lose the ability to trust or form positive relationships, according to experts at the Helen Bamber Foundation, a British charity that supports survivors of human rights violations.
This makes treatment more difficult, but also more critical if refugees are to have a chance of a new life and their host countries are to successfully integrate them, says Mina Fazel, a refugee mental health specialist at Oxford University.
A review published in The Lancet in 2005 of 20 studies looking at mental illness among 7,000 refugees resettled in Western countries, found they were about 10 times more likely than the general population to have PTSD. It concluded: "Tens of thousands of refugees and former refugees resettled in western countries probably have post-traumatic stress disorder."
While refugees are not a new phenomenon, it is only in about the past decade that psychologists have refined approaches specifically for them, partly because the international response has focused on such needs as food, clothing and shelter.
Narrative exposure
Studies of a specifically refugee-relevant psychological therapy called Narrative Exposure Therapy (NET) show it can produce swift and meaningful results.
Since time matters when treating refugees, who often do not stay in one place for very long, NET – first devised by German researchers Frank Neuner, Maggie Schauer and Thomas Elbert 10 years ago – was developed specifically for victims of multiple trauma and designed to be delivered in refugee camp settings.
The treatment, typically administered in six sessions of about an hour each, focuses on clearly documenting the atrocities endured.
One clinical trial in 43 Sudanese refugees, designed to examine the effectiveness of NET, compared results in of those who had four sessions of NET versus others who had four supportive counseling sessions, versus others who had one session of another established form of psychological therapy called psychoeducation.
A year later, only 29 percent of the NET patients still met the diagnosis for PTSD, compared with 79 of the counseling patients and 80 percent of the psychoeducation group.
Patients are encouraged to relate what has happened to them, ideally in a chronological framework.
By emotionally exposing themselves to traumatic memories in a coherent historical narrative, NET helps refugees "anchor in time and context" the trauma they experienced and overcome flashbacks, said Katy Robjant, head of therapy services at the Helen Bamber Foundation, which uses the technique.
"You learn that you don't have to be afraid of your memories," she told Reuters.
Robjant says that in the past year, around 30 to 35 patients at the foundation had been treated using NET. Her foundation is one of five specialist trauma services in London, and all use NET for many of their multiple trauma PTSD patients.
None of the organizations mentioned in this story would allow Reuters access to refugees undergoing therapy, citing concerns about patient confidentiality and welfare.
It is also difficult to gauge the costs of the treatments described, since they are often administered by therapists working for charities on a voluntary basis.
Alienation, anxiety
Other specialists prefer a different approach, using their own experiences as refugees now settled and working in a new country to help others deal with their trauma.
In an old piano factory that has become the Refugee Therapy Centre in north London, a 44-year-old Syrian man wrings his hands, his desperate eyes darting and restless as he tells of being imprisoned and torture. His wife says he wakes up crying in the night, can't work, and can become angry and unpredictable when people make comments in the street.
He doesn't want to give his name, or details of what his jailers did to him, but he hopes staff at the center can help.
The therapists here work in 14 languages – including Arabic, Farsi, French, Spanish and Turkish – to help patients like the Syrian refugee deal with issues of cultural alienation, social isolation, anxiety and depression.
The center's clinical director, Aida Alayarian, doesn't use NET, saying she prefers to avoid exposing her patients to painful memories and instead wants to focus on overcoming present fears and anxieties. She says she sees better results with a technique known as Intercultural Psychotherapy.
With its roots in the development of cross-cultural psychiatry of the 1970s, the treatment was refined in the past decade to focus on refugees. It aims to rebuild psychological resilience and, Alayarian says, is relevant for migrants currently coming to Europe, particularly the young.
"It's really important for us to bring in young refugees who have suffered psychologically but don't have the willingness to seek psychological help," she said.
Over the last year, the center – funded in part by charitable donations and in part by local government grant – has been seeing about 50 patients a week. She says around 90 percent of her patients meet the diagnostic criteria for PTSD.
There is no defined duration for the treatment. Therapists use psychoanalytic techniques to work through past experiences, but the emphasis is on providing cultural support, including advice about schools, housing and employment, to help migrants adjust, tackle current difficulties and rebuild confidence and self-esteem, rather than documenting past trauma.
'Tip of the iceberg'
Whatever the preferred approach, there is little doubt demand is high.
The United Nations refugee agency UNHCR says nearly 59.5 million people worldwide were displaced at the end of 2014, up from 51.2 million in 2013. The UN sees no easing of the flow into Europe and says the current 8,000 daily arrivals may turn out to be only "the tip of the iceberg".
Some health experts argue that while psychological first aid may be desirable, refugees often have more pressing needs such as food, clothing, shelter, safety and access to justice.
Robjant agrees basic emergency needs come first, but said: "We're talking here about people who have very serious mental health problems, and those kinds of people will find it much more difficult anyway to meet their own basic needs.
"Also, for those who are suicidal, addressing their mental health could be as much a life and death situation as addressing their need for food and shelter."