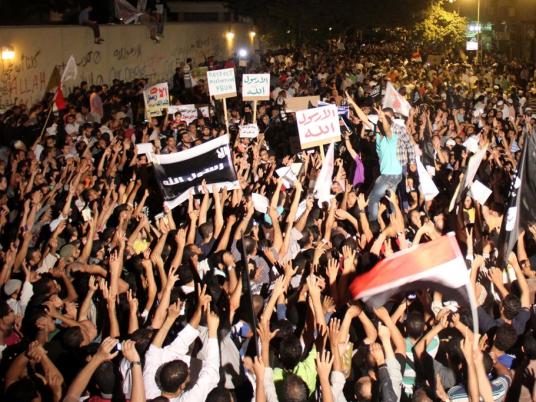 Demonstrations swept through Egypt's governorates on Friday as protesters marched against Wednesday's Battle of the Came verdict.
In Alexandria, hundreds of members of the civil forces staged a protest at Leader Ibrahim Mosque to demand the application of "social justice" as one of the objectives of the revolution.
They called for the dissolution of the Constituent Assembly and the re-trial of former regime figure heads, especially those who have received weak sentences or been acquitted on charges of corruption, illicit gains and killing protesters.
A march started at Leader Ibrahim Mosque, heading to the eastern region of Alexandria, avoiding Sidi Gaber where President Mohamed Morsy performed Friday prayers with thousands of supporters who belong to the Muslim Brotherhood and Salafi Da'wa.
In Minya, Jama'a al-Islamiya organized a protest after Friday prayers to demand a fair trial for the martyrs' murderers, and the purging of the judiciary following the acquittal of all Battle of the Camel defendants. They distributed a statement calling for a retrial with stronger evidence against defendants.
In Kafr al-Sheikh, the Karama Party, the Constitution Party, and the Popular Current Party staged a protest against Morsy's first 100 days, and called for the dissolution of the Constituent Assembly.
In Fayoum, demonstrators had different stances on Thursday's sacking of the public prosecutor and the re-trial of the defendants in the Battle of the Camel trial.
The Egyptian Social Democratic Party, the Constitution Party, the Popular Current Party and the Revolutionary Socialists staged a protest to demand accountability for the failure of Morsy's 100-day plan.
In Ismailia, dozens of political activists staged a limited protest in Ismailia City to denounce Morsy's policies, chanting against Morsy and the Brotherhood's supreme guide.
The demonstrators also distributed leaflets and called for a re-trial for the martyrs' killers, as well as the reformation of the Constituent Assembly.
Edited translation from MENA