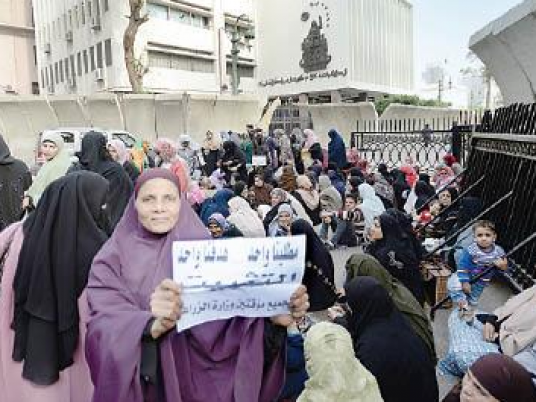 Protests returned to the vicinity of the Cabinet headquarters on Wednesday despite strict security measures in downtown Cairo following the acquittal of former President Hosni Mubarak.
Dozens of workers at the Ministry of Agriculture who have no permanet contracts staged a protest and a march on Hussein Hegazy Street outside the Cabinet headquarters to demand contracts and late payments.
The protesters complained of working with no permanent contracts for years and of disregarding their demands. The security forces cordoned the protest to prevent blocking the road.
Dozens of graduates of special technical health institutes also organized a protest in front of the rear gate of the Cabinet on Hussein Hegazy Street to demand joining the public nursing institutes and appointmet at government hospitals.
The protesters said they filed many complaints to the Health Ministry but their demands were disregarded.
Workers at Al-Nasr Company for Coke and Chemicals announced an open-ended sit-in to protest the non-disbursment of profits of nine months.
The protesters held the company's chairman of the board of directors in his office after he disregarded their demands over the past few days.
The workers demanded the dismissal of the company's chairman for oppressing labor leaders and punishing them.
Vice president of the union for engineering and metal industries Omara Ibrahim said that the Ministry of Investment agreed in its meeting with representatives of workers of the company on Tuesday to meet their demands and put a plan for the disbursment of their dues starting next week.
In a related context, the iron and steel workers decided to postpone their strike and giving the Cabinet a deadline to respond to their demands until next Saturday.
Edited translation from Al-Masry Al-Youm