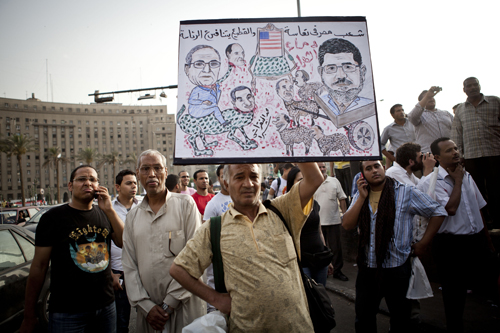 Protests erupted in Alexandria and Cairo after the Presidential Elections Commission officially announced Monday that former regime figure Ahmed Shafiq will be facing off against the Muslim Brotherhood's Mohamed Morsy in the runoff for Egypt's top post next month. Hundreds more had joined the protests in Tahrir Square by Monday night, blocking traffic in the square.
Some 1,000 activists took to the streets of downtown Alexandria chanting, "Hamdeen Sabbahi should be the president. Ahmed Shafiq should be with the prisoners."
Sabbahi is the Nasserist contender whose unexpected surge put him third in the first round of voting last week. He earned the support of many activists and revolutionaries who are left without a liberal or reform candidate to support.
When protesters approached a poster of Sabbahi, they chanted, "Here's the president." Of the 13 candidates, Sabbahi took the most votes in Alexandria.
Some protesters tore down Shafiq's campaign posters, including one that was on top of a 15-story building.
In Cairo, some 200 protesters gathered in Tahrir Square to object to both Shafiq and Morsy. "Down with military rule. Down with the supreme guide (of the Brotherhood) rule," protesters chanted.
Khaled Ali, a presidential contender supported by some revolutionaries, joined the protests and led the chants in downtown Cairo. He called on Sabbahi and former Brotherhood leader and presidential hopeful Abdel Moneim Abouel Fotouh to take to the square as well.
Protests also took place in the Delta City of Daqahlia against Shafiq. Protesters chanted, "Oh Bagato say the truth, was the election fraudulent or not!"
Hatem Bagato is the secretary general of the Presidential Elections Commission.
"Against Mubarak, father and son. Against the shoe and the spare," protesters said, referring to Morsy, who was dubbed the "spare tire" when the Brotherhood's main candidate and senior leader Khairat al-Shater was disqualified.
Posters of Sabbahi were raised to the chants, "Hamdeen is one of us. He took the square like us."