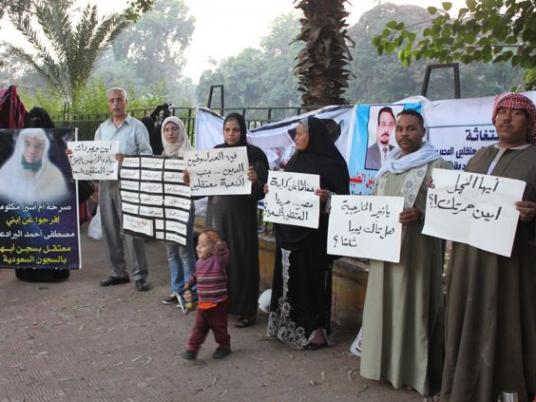 Families and friends of Egyptian detainees languishing in Saudi prisons launched an open-ended sit-in outside the kingdom's embassy in Giza and its consulate in Alexandria on Monday. In Giza, dozens of family members, friends and activists are protesting on the sidewalk just across the street from the Saudi Embassy, demanding the trial or release of 31 Egyptians who are being detained incommunicado in the Gulf monarchy's prisons.
Protesters gave horrific accounts of corporal punishment, torture, physical and psychological abuse in a number of prisons across Saudi Arabia.
The campaign, organized by the League of Families of Prisoners in Saudi Arabia, is the latest attempt to pressure Saudi and Egyptian authorities into respecting the rights of these detainees to due process, a fair trial and humane prison conditions.
The league's origins date back to 2010, when family and friends of detainees began to network with each other. According to rights activist and campaign organizer Shereen Farid, the gathering is its 60th rally, and fourth sit-in outside the Saudi Embassy.
"Many of us are willing to escalate this sit-in protest into a hunger strike if our demands are not met," Farid adds.
She points to Article 144 of the Saudi Penal Code, which she says stipulates a maximum of six months imprisonment for suspects without legal charges; beyond this limit, detainees must either be charged or released.
"However, these 31 detainees have been held in prisons for periods ranging from three and a half years to 19 years — without charges or trials," says Farid. "The most basic rights of Egyptians are violated both here and abroad. However, Saudi Arabia is at the forefront of states which systematically violate the rights of Egyptian expatriates."
The campaign organizer explained that the league had resorted to protesting outside the embassy and consulate numerous times, along with the Egyptian Foreign Ministry, the Cabinet and Parliament, to resolve their grievances. However, these desperate attempts yielded no actual results.
"Our league has filed more than 20 requests and appeals to meet with President [Mohamed] Morsy or his staff in the hopes of gaining their intercession, or at least having them hear our pleas, all to no avail," Farid says.
In a statement seen exclusively by Egypt Independent, Nagla Wafa, an Egyptian professional languishing in Malaz Prison in Riyadh since September 2009, wrote: "I am being destroyed physically and morally."
After more than 20 months in detention without charge, in June 2011, Wafa was sentenced to five years in prison and 500 lashes She has already received 400 lashes, 50 lashes at a time.
Wafa who was caught up in a professional dispute with a Saudi princess, reiterated her innocence in her latest statement. Addressing the Morsy regime, she asked: "Does Egypt have no dignity? I am asking only for a just trial." Addressing her Saudi captors she asked: "What is the real reason behind my imprisonment here? I demand a clear and honest explanation, not baseless charges."
Sitting on a carpet placed over the sidewalk, Om Mohamed, a mother of one of the detainees, shouts, "Morsy values the loans from Saudi Arabia more than he values the lives of our children! He's afraid to stand up to the Saudi ruling family, even if it is to defend the lives of his fellow citizens, innocent souls. We don't care about money or wealth, we only want our children back. Shame on these Arab rulers!"
On the sidewalk men, women and children sit, sleep, chat, sip tea and eat. Banners and posters bearing the photos of detainees were hung along a fence behind them. Just across the street a line of soldiers in camouflage suits bearing machine guns stand guard over the embassy, while another line of black-clad riot-police, bearing shields and clubs, are deployed in front of them.
Uniformed police officers, together with plain-clothed policemen holding walkie-talkies, step onto the sidewalk in an attempt to persuade the protesters to pack-up and leave. The police officer explains, "We won't be here at night time, so we can't guarantee your protection from trouble makers."
"We can protect ourselves!" a male protester shouts in response.
Protester Hesham Ezz Eddin says that prison police in Saudi Arabia nearly debilitated his hand from "relentless beatings."
"Arab rulers still think they can resolve any problem through their security forces," he says. Sporting an Islamist-style beard and trimmed mustache, Ezz Eddin displayed his right hand, which bears numerous scars and stitch marks.
Ezz Eddin explained that he had worked in the holy city of Medina for over 12 years. His wife and three children moved to Saudi Arabia to reside with him, but his experience in prison tore his family apart. Ezz Eddin was arrested in 2008 and was imprisoned for two and a half years — without official charges — before being deported.
"Until this day I don't know why I was arrested," says Ezz Eddin. "My interrogators accused me of belonging to the Muslim Brotherhood, and contacting subversive elements in the kingdom, along with other fabricated accusations, but the prosecution never leveled official charges against me."
Ezz Eddin claims that he was held in solitary confinement for the first two and a half months. Prison police then began physically torturing him — whipping him with hoses and beating him with clubs while blind-folded and bound by his hands and feet.
"Their intent was not only torture, but also humiliation," says Ezz Eddin. "They told me: 'You are being beaten like a donkey. We are beating you to humiliate you, this is what you want' and 'Egyptians here are worth only 20 Riyals, the cost of a burial shroud.'"
Ezz Eddin claims that an officer psychologically tortured him by telling him he was going to be beheaded. "I believed him, and was actually preparing myself to face my execution."
The bearded man explains that he developed psychological illnesses months later upon learning that police had arrested his wife and children.
Ezz Eddin's three children, aged 3 to 7 at the time, and his wife were locked up in a detention center for one month, after which they were deported. Ezz Eddin was deported about one year later, after forfeiting his small grocery shop, money and car.
"These difficult tribulations, along with my mental condition," led Ezz Eddin's wife to file for a divorce a few months after his return to Egypt.
In another case, the Egyptian agricultural worker Yasser Abdallah has been locked up for three years in Saudi Arabia's Abha Prison without charge or trial. Saleh and Salah — Abdallah's two brothers — along with his wife and infant son traveled from the Upper Egyptian governorate of Assiut to join the protest outside the Saudi Embassy.
"There are no official charges against Yasser, only false accusations made-up by police there," Salah says. Yasser's brothers explain that he is being held in solitary confinement and is only allowed to contact his family members "once every six months or so."
Yasser's wife, holding their 3-year-old son, Maged, says, "He frequently asks me, 'Where is Baba? When is he coming back? When can we see him?' He's too young to understand." The mother explains that Yasser never saw his son, as he was imprisoned when Maged was still in her womb.
Also being held incommunicado in Abha Prison for the past three years is Mostafa al-Baradei. His mother claims that Baradei has "lost much of his vision due to torture and being locked up in solitary confinement in a small cell with no light, cooling or heating."
As for Ibrahim Emeira, he has reportedly been detained in Riyadh's Kharg Prison for the past seven years, "although he served and finished his sentence three years ago," according to his elderly mother. Emeira was charged with stealing a safe full of money and put on trial. Yet an appeal hearing proved Emeira's innocence by producing DNA samples at the scene of the crime. Emeira was due to be released in 2009, yet remains in prison.
Egyptians are not the only foreign victims of unlawful detention within Saudi Arabia's prisons. There are countless number of others — primarily from African and Asian countries — who are being held without charge or trial.