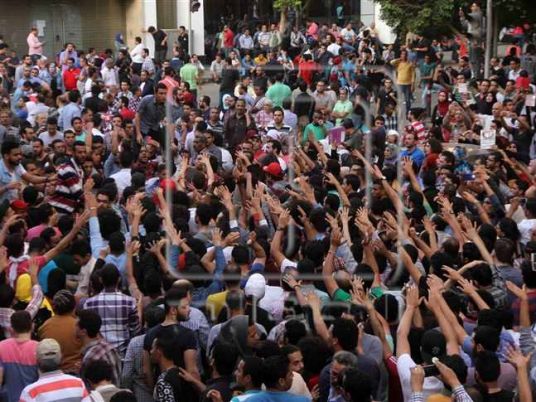 Former Deputy Interior Minister Mohamed Nour Eddin said in a TV interview broadcast on Saturday that the ministry has never rejected any requests to hold public protests, denying accusations that political protests are routinely dissallowed in Egypt.
"All requests submitted to the ministry was approved including permissions on protests against the policies adopted by the ministry and the Minister Magdy abdel Ghaffar himself," Nour Eddin said during a talk show on Al-Ghad news channel.
He made the comments in the wake of protests across Egypt against the official transfer for two Red Sea islands to Saudi Arabian control, a move that has provoked angry reactions within Egypt. At least 100 people were reportedly arrested in various locations on Friday, as some protesters clashed with police.
Defending Egypt's system for regulating political protests, Nour Eddin said all countries in the world have rules that regulate public protests, and the system in Egypt is no different.
He said that groups who accompany the Egyptian president on his foreign tours have to get permission to protest in support of Egypt during those visits. The permissions includes specific hours and locations, as well as prior approval of the slogans, so as to avoid insulting officials or inciting hatred.
The legislation regarding protests in Egypt does not ban them, but rather regulatest their conduct, said the former ministry official.
He said, those people who protested on Friday were merely expressing their concerns about the future of their country, and the police allowed them to continue with their protests so long as they remained peaceful and did not damage to property, use fireworks or flammable materials, or assault the police.
"When I conducted a tour of some places that saw protests, I didn't come across one situation that didn't involve insults aimed at provoking the policemen," he said, refering to the protests on Friday.
Among the protests on Friday, was one large gathering outside the Journalists Syndicate, located in downtown Cairo. Security forces attempted to disperse the protesters, leading to clashes.
On April 8, Egypt and Saudi Arabia signed an agreement clarifying the demarcation of maritime borders between the two nations, just one of several deals signed during the visit to Egypt of Saudi King Salman bin Abdel Aziz.
In a statement last week, the Egyptian Cabinet said that the agreement places the two islands of Tiran and Sanafir within Saudi territorial waters, although the agreement will need to be reviewed by parliament before it is ratified.
The two islands are of great strategic importance, being located at the entrance to the Gulf of Aqaba
Edited translation from Al-Masry Al-Youm