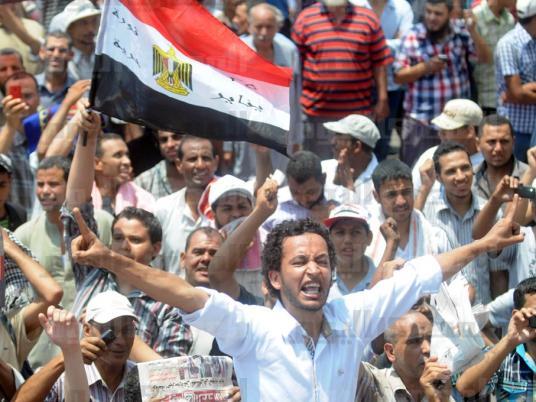 Dozens protested in Tahrir Square Friday demanding the release of all civilian detainees in military prisons, chanting the slogan, "Freedom is a popular demand."
Dozens of activists staged a protest in Alexandria to call for the release of civilian detainees, minimum and maximum wage limits for government employees and meeting the rest of the 25 January revolution's demands. They raised the Egyptian flag.
The No to Military Trials for Civilians group called on Thursday for a human chain on Qasr al-Nil bridge on Friday for two days to show solidarity with convicts and detainees in military prisons and to demand their release.
President Mohamed Morsy had promised to fight for the release of all detainees in military prisons during a speech he gave before thousands in Tahrir Square on 29 June. Morsy issued a decree to form a panel to review the cases of civilians detained by the military.
A presidential committee tasked with investigating the case of civilians convicted in military trials between 25 January 2011 and 30 June 2012 told Al-Masry Al-Youm on 20 August that it has finished investigating military detainees' cases and now plans to investigate civilians convicted by civilian courts during the same period.
The announcement follows Morsy's recent pardon of a second wave of civilians convicted in military trials. Hundreds of prisoners were released in July as part of Morsy's pardon for civilians who had been tried before military courts in events related to last year's protests and uprising.
Still, activists say Morsy's efforts fall short of stopping the military police. They have demanded that Morsy issue amnesty to all civilians convicted in military trials since January 2011.
Edited translation from MENA