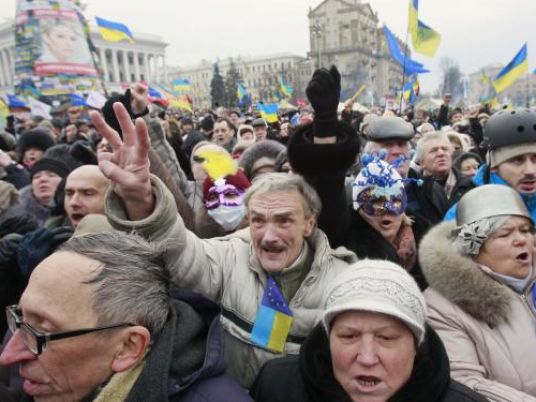 Several thousand anti-government protesters clashed with police near Ukraine's parliament on Tuesday, torching a police truck and hurling stones in the first real violence in the capital Kiev in more than three weeks.
The protesters marched to the parliament building in a move to keep up pressure on President Viktor Yanukovich to relinquish some of his presidential powers.
But when they were blocked by a line of trucks about 100 meters short of the building, the protesters hurled stones at police, a Reuters witness said, and petrol bombs set two trucks ablaze.
Police replied by firing stun and smoke grenades from trucks and from the tops of buildings to try to break up the crowd.
Ukrainian television said five protesters had been hurt in the clashes. The report could not immediately be confirmed.
Inside parliament, opposition leaders brought proceedings to a halt by blocking the speaker's tribune and insisting that deputies discuss their call for constitutional changes that would curb Yanukovich's powers.
Yanukovich has been battling an opposition-led street revolt since he walked away from a trade pact with the European Union in November and opted instead for forging closer economic ties with Russia, Ukraine's Soviet-era master.
Opposition leaders are pressing him to accept curbs on his powers that would allow them to form an independent government to end the street unrest, now in its third month, and to save the economy from collapse.
Russian aid
Yanukovich, who must soon name his choice for a new prime minister, got a boost on Monday when Moscow said it would give Kiev a fresh cash injection this week of $2 billion – part of a $15 billion aid package to shore up a heavily indebted economy.
News of the fresh credit from Russia failed to have an immediate effect on the currency market and the troubled Ukrainian hryvnia fell by up to 1.6 percent against the dollar in early Tuesday trade, Reuters trading system showed.
In what has become a geo-political tussle redolent of the Cold War, the United States and its Western allies are urging Yanukovich to turn back to Europe and the prospect of an IMF-supported recovery, while Russia accuses them of meddling.
Thousands of protesters have turned Kiev city center into a fortified camp, surrounded by barricades of tires, sandbags and barbed wire. They say they will not withdraw until Yanukovich has made real concessions.
At least six people have died in the unrest, though there had been no violent clashes between radicals and riot police for more than three weeks.
"We announced that we wanted to hold a peaceful march but they (the police) are stopping us. The authorities on the one hand are saying they want obstacles removed from the center but now they are stopping people going to parliament," said one protester, Yury Lutsenko.
"In circumstances like that, clashes are inevitable."